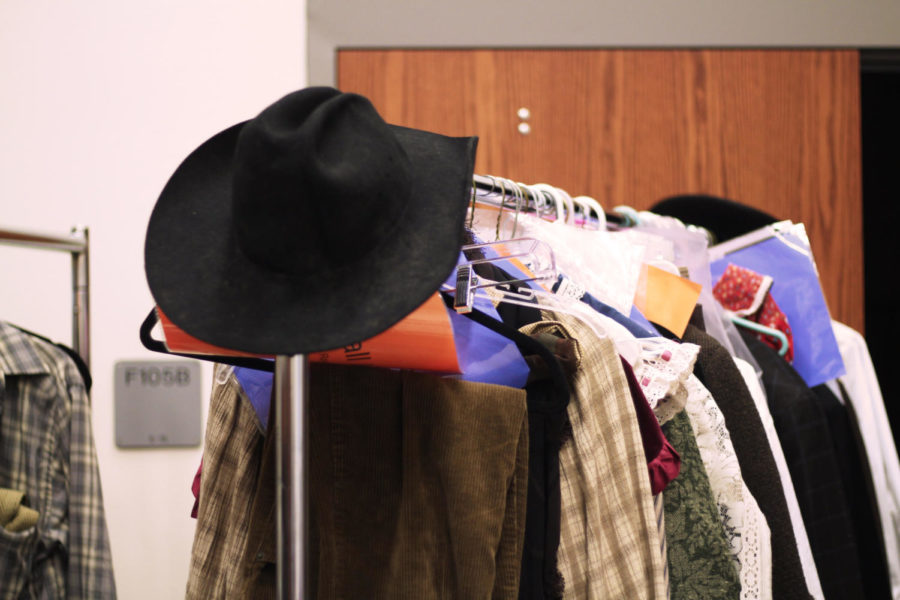 Shae Daugherty
Nine stories, two shows, and one cast.
The struggle of finding a family.
The struggle of finding a home.
Students in theatre prepare to tell the lives of nine orphans, who are on a train heading West in hopes of being adopted.
Students will perform The Orphan Train on Oct. 18 and 20 at 7 p.m in the Black Box, the intimate setting providing a more personal atmosphere that will allow the audience to feel as if they are a part of the scene. The cast hopes through this, the performance will rightfully portray the hardships most orphans battled in the past and influence people to to help those in the present.
"I think it really helps to bring attention to the errors in the foster system and the whole adoption stuff," senior Devyn Veitch said. "It sheds light on the lives of orphan children and the way that they were treated, and still now it's not much better. I think that a lot of people don't really think about that, a lot of people don't really think about teenage orphans but [its] really common for teenagers to be in foster homes. I think people don't realize that as much."
The show is split into nine different sections, giving an up-close look at the diverse situations each orphan faced and how tough finding a family truly was during this time.
"Even though it's a fictional story, the situations are very real," senior Natalie Edwards said. "Today it's just as real as they were back when the story was set. There are still kids that don't have homes and don't have safe places to go at night, and loving people to come home to. It's important that they have that and people recognize that's an issue we have."
Senior Zachary Andrzejewski said the show has shown him how lucky he is to have what he has, and hopes "The Orphan Train" will inspire the audience to appreciate what they have.
"It really shows how fortunate everyone is to have their own parents," Andrzejewski said. "Even if you may argue with them, you still have someone that loves you and cares for you, and some of these kids don't have that. I want the audience to take away that you need to be grateful about your life, and that you have parents to care for you and a family."
The cast is showing their support for the children within the foster system by encouraging those who attend the show to bring donations for Foster Village North Texas. The theme for the donations revolve around nighttime necessities that any child may need before they go to sleep. Items like pajamas, socks, toothpaste, deodorant, and more are all appreciated.
"I hope that the audience recognizes the struggles of orphan children and it inspires them to give back and hopefully give back to local foster agencies," Veitch said.