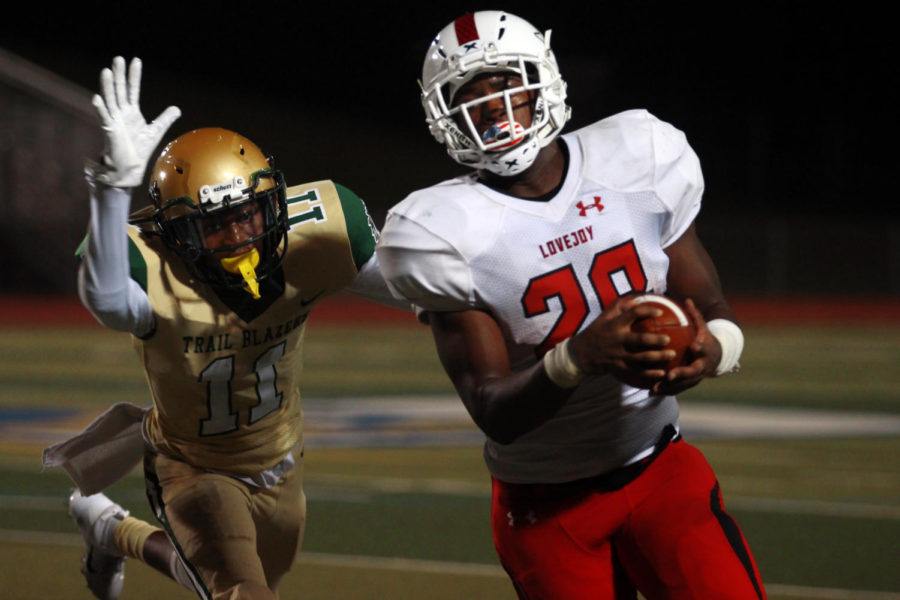 Grace Nguyen
The top spot in District 7-5A Division II will be on the line tonight when the football team (4-0, 3-0 district) collides with the Frisco Reedy Lions (6-0, 4-0) at 7 p.m at Leopard Stadium.
"There's a level of excitement, and rightfully so," head coach Todd Ford said. "We get the opportunity to play in front of a big crowd on 'Pink Out' night, and oh by the way, it's against a powerful district [opponent]."
Although the Leopards are riding a four-game winning streak to begin the year, they have yet to face an opponent with more than one win. In fact, the combined record of the Leopards' opponents (Heritage, Memorial, Braswell, and Lebanon Trail) is 4-21 up to this point.
Nevertheless, Ford said he views tonight's challenge as an opportunity to make a statement.
"We can't control our opponents," Ford said. "As long as we play well, things are going to happen on the good side for the Leopards. We do have a great opportunity ahead of us. It's not going to take a superhuman effort. It's just going to take all of us playing well and working together."
Reedy has faced opponents with a combined record of 15-18 on the season, and the Lions share the exact same point differential as the Leopards (+149).
.
On offense, the Lions are led by senior quarterback Josh Foskey, who has eclipsed the 1,000 yard plateau while throwing just one interception, and senior tailback Michael Ferrara, who is averaging over seven yards per carrySenior defensive lineman Luke Stine said that countering the Reedy rushing game, which has amassed 20 touchdowns this season, is a focal point for the defense.
"Reedy is a running team," Stine said. "They primarily keep the ball on the ground, and after a big play, they like to keep the tempo up, so they immediately get back to the line to snap the ball and get a play off as quick as possible."
From a defensive perspective, the Lions are limiting opponents to an average of 238 total yards per game.
Sophomore wide receiver Luke Mayfield, who complemented 91 receiving yards with two touchdowns last week, said the Leopard offense will look to keep the Lion defense off balance.
"We are going to establish the run game and then open up the pass game," Mayfield said.
In last week's 56-15 win at Lebanon Trail, the Leopards were successful in the passing game early, as senior quarterback Carson Collins was responsible for the first five Leopard touchdowns of the night. Collins' night finished early in the third quarter after being taken out for what Ford described as "precautionary reasons," but the signal caller is expected to start tonight.