Don't judge 'Coop' by his cover
Animation teacher Ray Cooper finds peace, outlet for introversion with passion for books
May 29, 2018
Students don't know half of Ray Cooper's story.
They don't know the animation teacher has a limited amount of words he'll say every day, always trying to save them for his wife, who deserves more than just one-word responses at dinner.
They don't know he decides to go above and beyond by dressing up for every holiday not just because it's fun, but because he feels it's what he needs to do to make high school how it should be.
They don't know his personality is divided, like two sides of the same coin, but "maybe a coin isn't the best example."
They don't know school is draining for him, spending eight hours exchanging energy in every conversation, yet the animation teacher comes back to classroom B234 every morning so students can enjoy "Coop's Cave."
They don't know the moment he steps into his car and starts the ignition is the moment he's in "full introvert mode," and that the bookstore is a haven for him.
For his students, Ray Cooper's story is a book half-read.
The beginning
After moving to Texas in 1980, Ray began to wonder what Collin County was like before he moved to the area. He started searching books for the answers, and his obsession with literature began.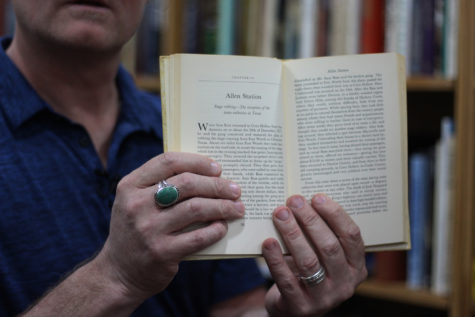 "There's something more there that I can really express, I guess, but there's something about when I drive through an area, I think, 'What did this place look like 100 years ago" Ray said. "I'm just fascinated by that, I guess."
It wasn't until around five years ago that Ray started obsessively collecting books, and making efforts to travel to bookstores on what he calls "book quests." His collection began as a way to feed his interest in local culture and history, but now it's "super easy" for Ray to admit he has an obsession with books of all subjects.
Although the book quests didn't start until five years ago, going through a depression in 2001 and suffering from anxiety led to book collecting becoming an early form of self-medication for Ray. Through struggling with theological beliefs, a divorce, and many things in between, Ray found himself searching books for answers.
"I started really challenging my thinking, my thinking on everything," Ray said. "[Thinking] 'why wasn't I what I thought I should be' [and] really trying to hold myself to those standards and falling short. I just wasn't able to really handle [it, and I was] buying books thinking 'I'll read this stuff and find some answer, and I'll be able to meditate my way out of feeling this way.'"
Ray said he couldn't put into words what was wrong with him at the time, but looking back on 2001, he realized he was "classically depressed."
"[Books] weren't people that were going to reject me," Ray said. "The books that I read, they don't judge you. I think when you read books, you can be convicted of things. They can challenge you, but books don't judge you. Books might have content that might judge you, but they don't know me. They're not judging me, they're just saying something."
After delving into philosophies, reflecting on his own beliefs, and reading countless books, Ray said he's learned to cope with his depression and anxiety, and said he's "not the same person" as he was back in 2001.
"My name is Ray Cooper," he says now. "I'm depressed and anxious, and I'm OK with that."
Book questing
Now, the Raymond E. Cooper Collection has expanded to include over 115 autographed books, featuring many books about Collin County, but also a variety such as books by Bill Clinton, Jerry Jones, and Tom Landry. Ray collects all kinds of books, but focuses on signed books because "there's something about [knowing a] person that I admire was holding [each] book."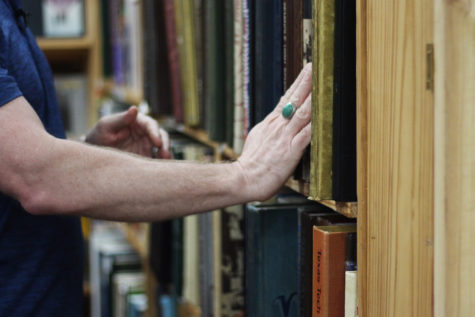 "There's an affinity, it's really an attachment, I think, that probably at some point could be unhealthy," Ray said. "Because as a Buddhist, I'm not supposed to be attached to things, but it's just neat."
Ray makes time almost every weekend to take a trip to one of many Half Price Bookstores in the area, and he said he rarely comes across a bookstore of which he hasn't heard. On occasional trips back from his parents' house in McKinney, a quick stop to "use the restroom" easily turns into a book quest with Ray returning home two hours later. Although Ray is mindful of his responsibilities, all of them just "get in the way" sometimes.
Although each bookstore quest is different, the first thing Ray does is turn to the front page of any book that peaks his interest. He grabs piles of books at a time and shoves them into the crook of his elbow, holding just enough of the same copy until he said he starts to look crazy. Ray checks every copy for a signature, because missing just one copy could be a big mistake.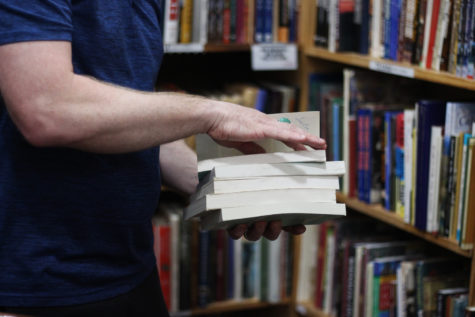 "Usually authors will sign it on the first page," Ray said. "Some of those are authentic, but there's really not a way to prove that they're authentic. I found a Jimmy Carter [book] that was signed, and I compared it to his autograph on Google Images and it matched up. So for eight bucks, why not take the chance? It's just an obsession of mine now, and if [the book is] worth something, that's all the better."
Ray's classic "Google Image Test" is a key part of every book quest, and in most cases Ray discovers the autographs he's found size up to the authenticated signatures he sees on Google. Books could be worth thousands of dollars depending on the signature, but Ray said monetary gain isn't on his mind.
"It's neat when I find books that I've bought for whatever reason that are signed for eight bucks, and it's neat to go to another Half Price Bookstore and look at their 'behind glass signed books' and see that book there for 100 bucks," Ray said. "I don't know if I'll ever at any point try and sell them. Hopefully I'll never been in the position where I'll have to sell all these books. This has a lot of sentimental value to me."
Ray considers himself an extrovert at work, but an introvert anywhere else. Students know him as the teacher who rode into the gym for the Homecoming pep rallies annual musical chairs competition wearing a king's crown and being carried on a throne, but outside of campus, Ray finds peace alone surrounded by books.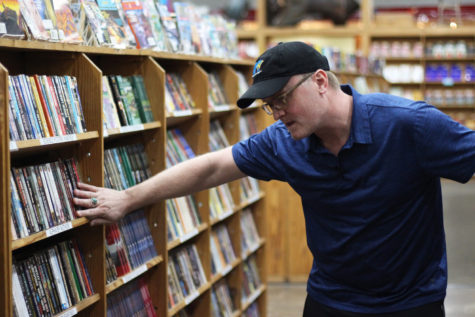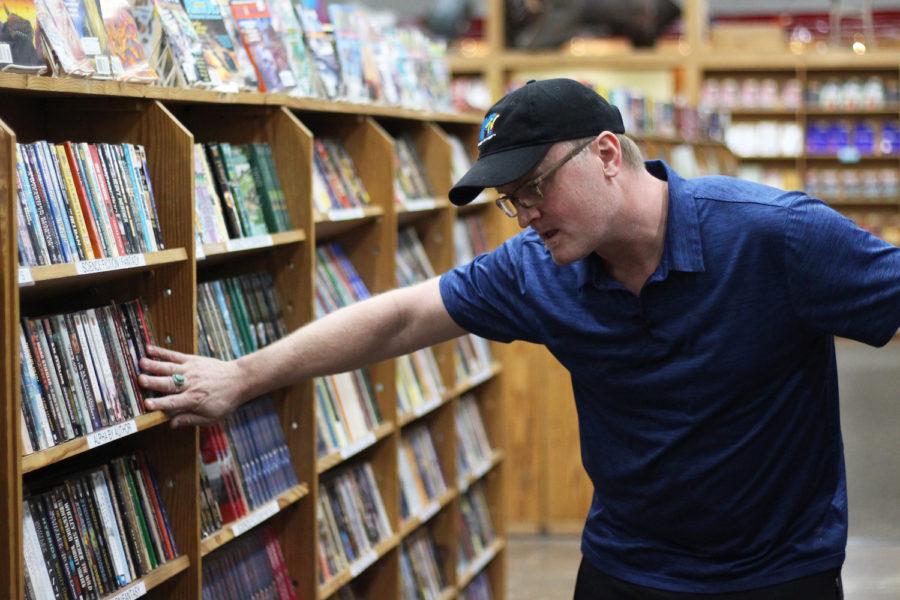 "I'm an extrovert here at work because that's what I need to be in order to do my job effectively the way I look at it," Ray said. "I lose so much energy that in order to just recharge, I've got to be by myself without interacting with people, and the bookstore does that for me. There's probably still a self-medicating side, a therapeutic side of it."
The bookstore is somewhere where Ray can interact with others, but not really interact. Ray said he pictures himself as a chicken egg. It's a "great little world" inside the egg, inside his own mind and in the bookstore, but it's what's on the outside that can be less than pleasant. Breaking out of the shell has gotten Ray where he is today.
"I'm happy," Ray said. "I'm still depressed. I'm an anxious person, and I'm always going to be that way, I think. I've just learned to manage it."
Cooper and the "Cave"
Although Ray's "sanctuary" can be found in the shelves of a Half Price Books store, he said he likes to think of his classroom, or "Coop's Cave," as a sanctuary for his students, a place here they can "come and get recharged."
"I really think that when I interact with people there's an energy exchange, and I want to be able to walk away and have them walk away from me and feel energized, not feel the opposite," Ray said. "I've felt the opposite, and you're totally zapped of your energy. [After] doing that all day, my superpowers are low. Just being by myself I recharge, and the books are a way for me to recharge."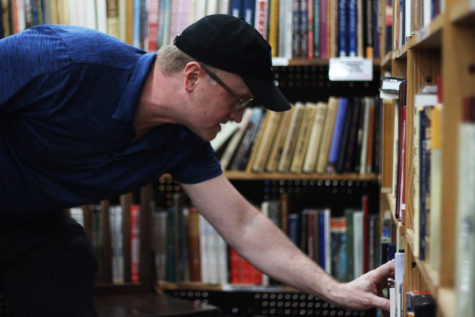 Standing in stark contrast to the Ray Cooper who's seen at the bookstore, Ray reveals the "extrovert side" of himself at school when he dresses up for anything from the annual musical chairs competition to a Star Wars-themed outfit for May the 4th.
"I have an internal struggle, because the introvert in me knows that if I'm going to do this, I'm going to do it right," Ray said. "You've got to go outlandish. Even though you're feeling silly while you're doing it."
Ray's personality and costume changes have not only encouraged students to join his class, but they also had students coming back year after year to visit Coop's Cave. More than 60 former students came to his room to visit this year.
"For me it is a family," Ray said. "You might be in high school for four years, but once you're in Coop's Cave, you're in Coop's Cave for life. There's just that bond."
With layered sounds and dimmed lights, Coop's Cave is just as much about the environment as it is about animation. Ray created Coop's Cave and dresses up year after year to make students' high school experience how he feels it should be. Ray's classroom is to students as the bookstore is the Ray.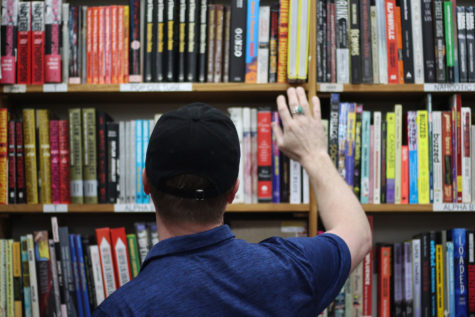 "Students only do high school once and I want them to have a good experience, I want to do it right," Ray said. "It's difficult being a teenager. It's difficult when you are made to be somewhere for eight hours everyday. That's a long time to be interacting and engaged. I think [Coop's Cave] makes it a more inviting place."
Memorable moments
Anything found in a book purchased by Ray stays there. Whether it's a receipt, a shred of paper, or a business card being used as a bookmark, Ray doesn't take them out. Although he typically finds plane ticket stubs and "stuff like that," the index cards he found inside a copy of Larry McMurtry's "Lonesome Dove" were "the most profound thing" he's ever discovered between the pages.
"As I read through the index cards, later on I talked to my wife and asked 'what do you think? I found these in this book," Ray said. "It was a suicide note this lady wrote to her kids. It's part of that book. It's part of the history of that book. Whether you believe in energy in objects and frequencies and all that, those notes are part of that book now."
It's not always what's found inside the pages that interests Ray. His passion for learning about the Collin County area even led him to meet up with Collin County author Randolph W. Farmer after finding him through social media.
"His is one of those books that I would see at the bookstore, and I'm looking at the pictures [in the book] and I'm thinking, 'Gosh, I wonder how this guy [got these pictures],'" Ray said. "So I tracked him down and said 'hey, can I buy you lunch? I want to talk to you about your book,' and just on that this guy met me. Probably if my daughter was doing this I would have said, 'You need to have some caution here.' But I met him in Plano this past summer and he told me all about his research and his latest book."
Balancing life and literature
Ray's wife Tammy said her husband meets the family's needs before sneaking off to the bookstore.
"I know Ray finds solace and comfort in the walls of books and the quiet atmosphere," Tammy said. "I'm all for it. I do love it when he says he is just running an errand, then he says he has to stop to use the restroom. Inevitably, when I check Find My Friends, he is at Half Price Books."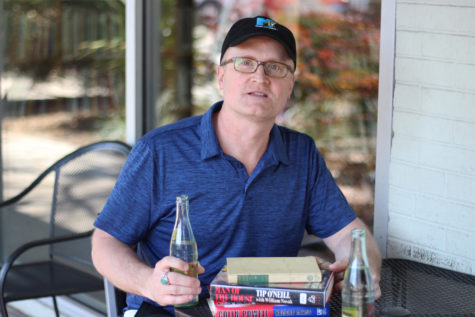 Once he leaves the campus and heads home, Ray will occasionally spend 30 minutes in his "mental cave" decompressing after a full day of exchanging energy with students and faculty. As a teacher, Ray said sometimes it's nice to not have to talk during class, that way his conversations at home won't be one-sided.
"I'm a believer in that fact that I have a certain number of words to say each day," Ray said. "I do know that for me, there's a certain number of words that I have and afterward, if I'm ever giving answers to my wife like 'huh, yeah,' she knows I've used up all my words. By the time I get home, she has a good 2,000 words left to go. I tell students here that I've got to save words for when I get home with my wife because it's not fair for her every day to just hear a grunt reply."
Ray said the "introvert side of him" didn't start showing until after his depression in 2001, and it was a foreign thing to his mother, Roz Cooper, who still tells him, "you were never like that, you were never an introvert." Roz said her mother, Ray's grandmother, led her brother and herself to fall in love with books, and she later instilled a love of books in Ray.
"If he could live in a bookstore, he would be a very happy man," Roz said. "Ray never does anything halfway, as anyone can tell by looking at his bookshelves. He sends me a photo of each of his finds. Let's just say a gift certificate to Half Price Books is top of the list for any gift giving occasion. We are extremely proud of the man he is. As he loves reading, he loves teaching. We are so proud of him. Reading goes on in his family."
In the end, Ray's love of books is something hardly able to be expressed in words.
"I guess [books are] portals to another world," Ray said. "You've got access to different worlds, then I guess you're in control of which world you go into. When I go on vacation, I go to bookstores. When I'm out, it's just what I do. But the feeling that I get [in bookstores] is just [like seeing] old friends I guess."