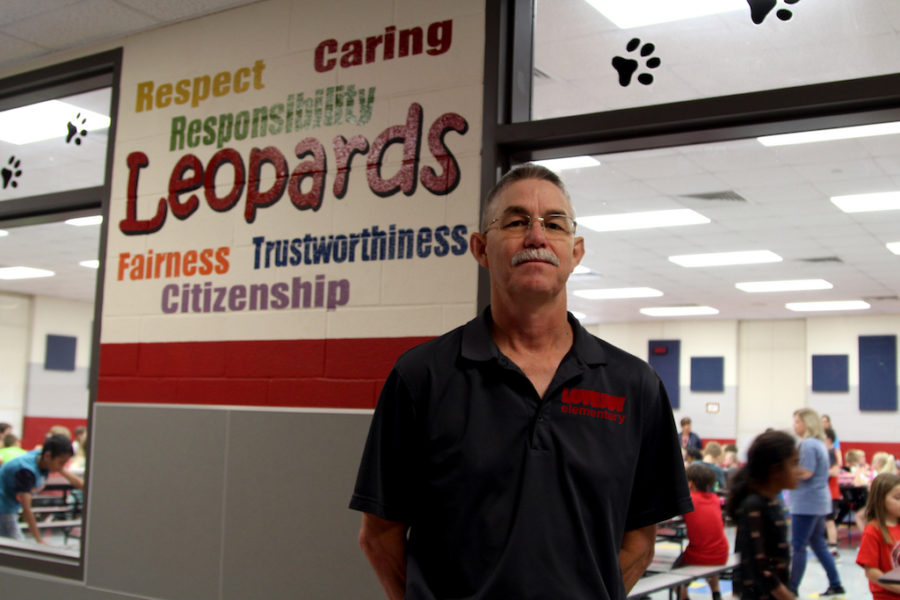 20 years of impacting lives
Lovejoy Elementary lead custodian John Evans has built relationships, watched students and the district grow
April 25, 2018
After a minivan door slides open, or the child lock on a truck releases, or the clasp of a seatbelt in the back seat of a mom's Chrysler comes unlatched, John Evans's smile is the first thing Lovejoy Elementary students see as they walk out of their carpool lane and into the school building. John Evans is the first person to step foot on the campus every morning, and he's the first person to make a student feel welcome as he puts a pause on his custodial duties to work car duty.
"I just love it," Evans said. "I love being around the people, love being around the kids– I just love my job."
As the lead custodian of Lovejoy Elementary, Evans has watched more than just his students grow up and out of the elementary school each year. After working here for 20 years, he's watched the district grow before his eyes.
"It has changed a lot," Evans said. "When I first went to work here, it was just Lovejoy Elementary and the Red Building. The year I started, they bought the land for Hart Elementary, so it went from one campus only going to sixth grade to three elementaries, intermediate school, and high school. It's grown tremendously."
Evans has experience in welding after graduating with a degree in the subject from Grayson Community College. After spending more than a decade working for welding companies across the state and even working independently on fences, Evans said he felt "burnt out" from his profession.
"I'd say on a scale from one to 10, Lovejoy's a 10 [and] the rest of [my old welding jobs] are about a five," Evans said.
Evans' brother-in-law Brian Hendricks, lead custodian at Hart Elementary, introduced Evans to a job opening in the district and told Evans he should apply for the position. Evans started out working in custodial and transportation positions.
"I quit driving [a] bus back in October," Evans said. "I'm diabetic, and I went from Type 2 Diabetes to Type 1, and when I did that, I forfeited my CDL [Commercial Driver's License]. So [I've driven] for football, for band competitions– I've driven just about all of it."
After sacrificing bus driving, Evans now works with maintenance on the automobile equipment as well as completing his duties as lead custodian.
"I thought it was going to be really, really hard, but actually they moved me straight into the maintenance job [after stopping bus driving], so it freed up some time because I'm not on the bus," Evans said. "I'm used to kids on the bus. It was a lot of fun getting to know all of them. Personal relationships, stuff like that. That's hard [to give up], but overall it's been OK."
When he occasionally works the clocks at sports games, Evans sometimes runs into a few old students.
"I still work volleyball [and] basketball [games], and every once in a while I'm over [at the high school] doing maintenance on machines," Evans said. "All the [students] that know me, that have come through Lovejoy or have been on my bus, they always stop and talk [and say], 'How are you doing Mr. Evans? Glad to see you.' Stuff like that."
Although Evans' 20th year in Lovejoy concluded in March, every work day stays relatively the same, with Evans cleaning up offices and the nurse's stations in the mornings, doing car duty once school opens, and proceeding to help out with whatever standard cleanups and maintenance work needs to be done around the campus. Evans said lunch duty is the worst of his daily duties but added that it's a place where he gets to talk to students and teachers alike.
"The mess doesn't bother me that much, but it is very loud in there," Evans said. "The best part is just seeing the kids every day [and] seeing the teachers every day [and] getting a good relationship with my principals [and] the faculty. It's just relationships with everybody."
Lovejoy Elementary principal Wendy Craft said Evans shows his dedication and loyalty toward the district after working for over 20 years.
"He is always talking about ways to make [the district] better, and he is proud of our students, his staff, and our school," Craft said. "He promotes the graduate profile each day by serving our community."
Even though Evans has a few more years until he retires, he said Lovejoy Elementary is like a family to him, and he hopes he has left his mark on the students he's seen through the years.
"I've seen some [students] go from kindergarten all the way through," Evans said. "I've even seen them come back, like I worked homecoming. Seeing kids from 20 years ago come back and still remember me, it's like, 'Wow, maybe I did have an impact.' I just hope that I've set an example for [my students] as human beings."