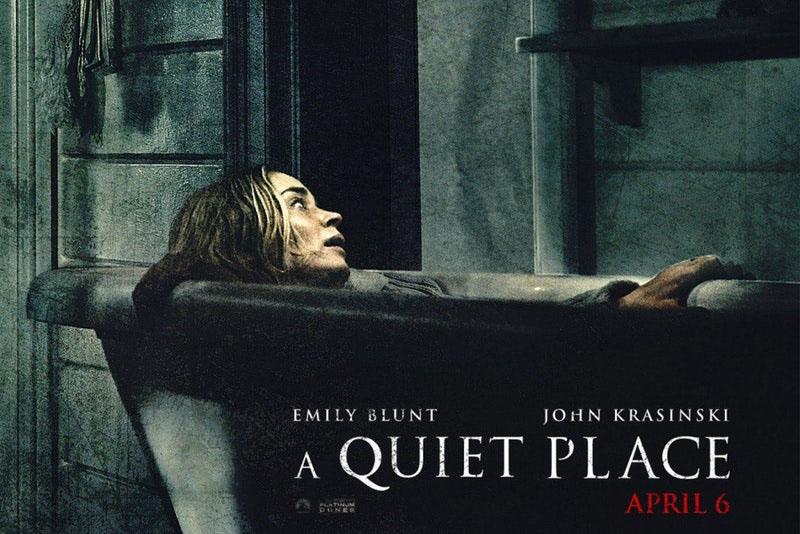 Courtesy of Paramount Pictures
It's difficult to stay quiet during this suspenseful thriller.
John Krasinski has proven himself to be more than just the snarky comedian he has shown in his role on "The Office," but has transitioned into a very competent director and screenwriter. His latest film, "A Quiet Place," stars himself along with his wife, Emily Blunt, as well as deaf actress Millicent Simmonds who does an amazing job at emoting and expressing extreme distress.
There is very little actual dialogue making the movie resemble a silent film. "A Quiet Place" relies heavily upon sign language which increases the tension whenever a sound is made by one of the main characters.
Krasinski, well known as prankster Jim Halpert from "The Office," has directed, starred, and co-written a film featuring extreme suspense and horrifying set pieces including a scene in which a woman gives birth in a bathtub will trying to stay silent. The premise is simple yet extremely thrilling: Monsters will kill you and your family if you make a single sound. It may seem a bit cliche at first, but Krasinski and his team make it very believable and appealing.
The cast, as mentioned before, utilizes the rapport of the real life couple of Krasinski and his extremely talented wife, Blunt. Their scenes together, although brief, are some of the best husband and wife interactions I've ever seen in a thriller. Along with the great performances from Krasinski and Blunt, the child actors (Millicent Simmonds, Noah Jupe, and Cade Woodward) all do an amazing job portraying horrified children living in a dystopian future infested with revolting monsters attracted to sound. Unlike most child actors, these children effectively convey true terror when their characters are getting attacked.
The film has the potential to be this year's "Get Out," another original horror film with a comedian at the helm. As accomplished as Jordan Peele ("Key & Peele," "Get Out") and Krasinski have proven to be in comedy, they've also proven themselves to be excellent screenwriters and directors of suspenseful horror. Both films seem at first to be bottom of the barrel, B-Movie thrillers, but upon further inspection are very smartly written and well-acted.
Everyone who can handle a few jump scares and psychological horror should see this film in a packed theater with a crowd that won't ruin the silent aesthetic.
Rating: A-