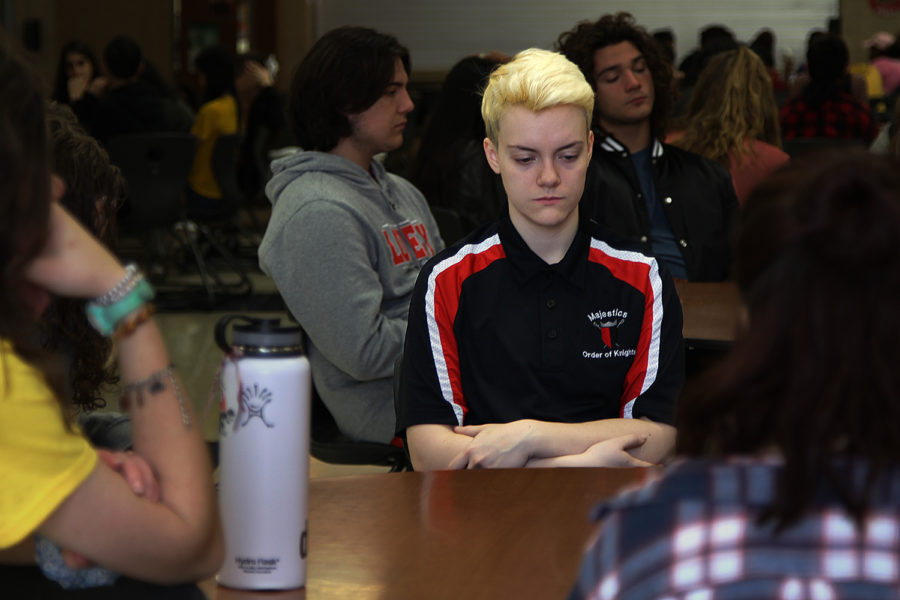 Grace Nguyen
Close to 200 students quietly filed into the commons, the only sound being the scraping of chairs against the tile. As they took their seats and settled down, silence blanketed the room and remained that way for 17 minutes. Students stared down at the ground, eyes unmoving, minds wandering.
Today at 10 a.m., students walked out of class for 17 minutes of silence to remember those who died during the Marjory Stoneman Douglas High School shooting. The event was organized by junior Lilly Taylor.
"[There were] a lot more [students] than I was expecting, to be honest," Taylor said. "The entire thing went smoothly. Everyone was quiet and respectful. There wasn't any commotion, so it was really amazing and powerful. I was also really grateful for the chance to do this and to give Lovejoy a chance to share their voice."
Associate principal Teresa Dodson agreed that the 17 minutes was "a powerful event," and principal Chris Mayfield spoke highly of how the participants conducted the memorial.
"I was really impressed at how students handled themselves and the way that they managed that," Mayfield said. "It was well done through students. I thought it reflected very well on our graduate profile."
Taylor had a number of conversations with Mayfield prior to today to ensure the two were on the same page, an initiative Mayfield said he respected.
"I really think that the leadership piece that Lilly took in the very beginning, as well as her willingness to dialogue about something that she was passionate about and really doing it in a way that was thoughtful, was [impressive]," Mayfield said.
Along with the other students in attendance, Taylor thought about mass shooting victims as well when a potential shooter threatened her Frisco middle school.
"I just sat still, and I thought about what we were doing, and I was thinking about what could have happened in the years in middle school, and I was thinking about all the people that have been affected by mass shootings," Lilly said. "I was also really grateful for the chance to do this and to give Lovejoy a chance to share their voice."
Editor's Note: Section Editor Lily Hager contributed to this story.