Flying, family, and 'a free feeling'
Senior Matt Harris follows his father's footsteps in his future career as a pilot
Hang on for a minute...we're trying to find some more stories you might like.
All throughout his childhood, senior Matt Harris witnessed a Southwest captain fly planes all over the world. He saw the pilot change out of his everyday clothes and into his professional uniform, and at 16-years-old, Matt decided to follow the captain's footsteps– his father's footsteps.
"I was drawn to piloting because my dad is a pilot, and I began to fly the plane when I was little," Matt said. "We would go up and fly, and I kind of got hooked."
Matt's father, Jeff Harris, has been a pilot for about 31 years and a captain for 12 years. When Matt was 13, Jeff gave control of the plane to his son at a friend's grass strip.
"You could tell he was in awe, and he was focused," Jeff said. "It just opens a new world of the safety of the earth and the advantage of viewpoints. There's almost order up there [in the air] where there's chaos down here in a philosophical way. I think it seemed like he saw that simplicity side to it."
While piloting ran in the family, it was always a goal for Jeff and Matt's mother, Robyn Harris, to not force Matt into that occupation.
"We never wanted to pressure him or push him into it because there's other kids that feel like that's kind of what they have to do when their parents have been in that field," Robyn said. "We want him to be passionate about whatever he does. I was excited for him, though, and then on the other side, the realistic side, is it's a long road. Knowing what his dad has gone through, I want him to be ready for that."
One benefit of Jeff's job for Matt is having a father who has a schedule of not working for 15-20 days each month.
"The beautiful part is when I'm home, I'm completely home," Jeff said. "There's no phone calls from bosses, emails to answer, or any kind of homework at all. But when I'm gone, I'm completely gone. I know I'm a phone call away, but it's just that black and white aspect of it where when you're here, you're here. When you're gone, you're gone. Kids and Robyn have learned to be self-sufficient and [do] whatever needs to be done during that three or four day period."
Though she is now "self-sufficient," as Jeff said, Robyn initially experienced her own personal struggles when Jeff was gone for a few days working and she was left to take care of Matt and her daughter, Kylie.
"When the kids were younger, it was kind of a challenge to make sure we got that time for them to see their dad," Robyn said. "[He's had to miss] Christmas, Thanksgiving, Easter, and he could potential[ly] miss all of them. He was missing a lot of holidays, so we would adjust our holiday to whenever he was home, and call that our Christmas or that our Thanksgiving."
Despite the difficulties the Harris family sometimes faced with Jeff being a captain, Matt will attend Oklahoma State to become a pilot. His dream location to one day fly over is the Grand Canyon.
"It's kind of a free feeling," Matt said. "I mean, there's rules, but it's a three-dimensional world up there. It's not just left and right. It's fast, and landing is my favorite part because it's challenging. You have to land right and try to be smooth as possible. You're coming in pretty fast, and it's fun."
Although Jeff is also excited for his son's future plans, he wants Matt to be completely aware of the industry and what it consists of.
"I was encouraging, but I realized that I needed to tell him that nothing worthwhile was easy," Jeff said. "He has to do it because he was called to and not because it's a byproduct of me being a pilot. There's years of preparation. It's not something to dabble with or a hobby. There's always going to be potential for equipment failure. So I do worry a little bit about that, but it's living life off the bench. If we didn't want any kind of risk, we wouldn't have gotten out of bed this morning. You got to live life, so I know it comes with the territory."

About the Writer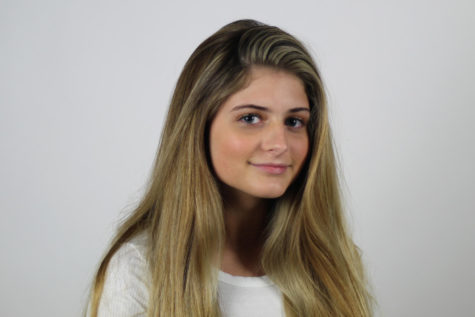 Hannah D'Iorio, Staff Writer
Junior Hannah D'Iorio is ecstatic about her fifth year in journalism. People who knew her in the previous years would probably say that she often sees...