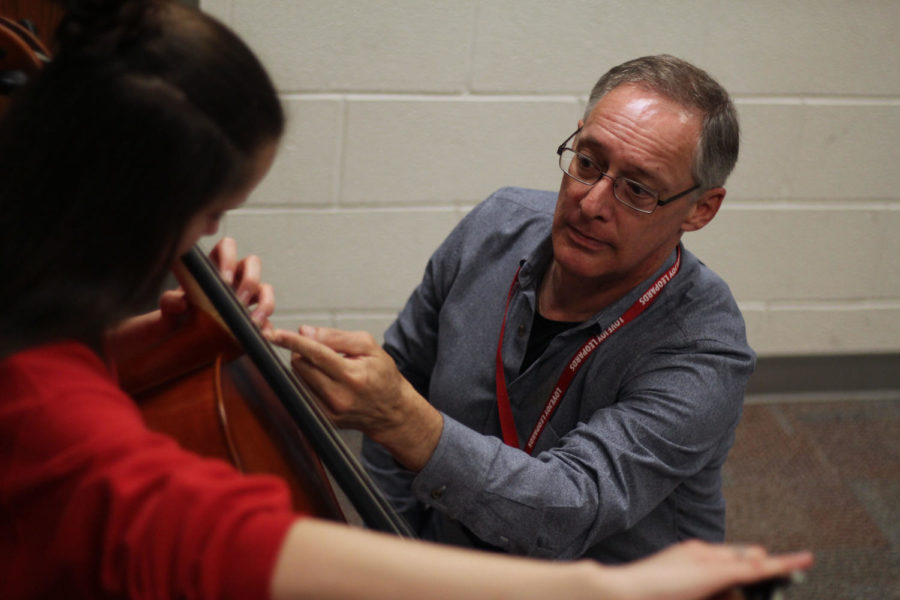 Kelsey Carroll
Students sit in a semicircle, cellos in hand, wide-eyed at the man they surround.
The man is more than just a teacher. They say he is a good friend of theirs.
They laugh. They share stories. Some funny, some sad– some have life lessons. They say he changed their perspective on the cello.
There were a lot of things young Philip Taggart could have done, but it never occurred to him to do anything except music.
Philip Taggart. Cellist in the Dallas Opera Orchestra. Teacher in his own home studio. He drives to the high school and teaches students for half the pay he gets in home, but for some reason he returns every week.
"I teach something that is not concrete," Taggart said. "What I teach is art. I'm teaching you how to feel it and appreciate it and express it. I can not do that on a purely analytical basis. I can't teach you how to feel music without teaching you how to feel and express emotion. In order to do that, [the student] and I will have some kind of bond that goes deeper than just the subject."
Taggart grew up in Dallas and attended Southern Methodist University by a scholarship, which he said he lost when he learned to skip classes. So, to finish his education, he joined the army. He said even though college is important to expand minds, he received most of his education after college.
"Over 30 years of teaching, and every student I've had is different from the next," Taggart said. "Every way they react to me teaches me about how to teach the next kid. When you go out in life you are going to learn more from the way life reacts to you than you ever did in college."
After college he traveled from gig to gig to earn a living for about seven years, but he said once he got married he was satisfied with settling down and teaching students. His personal teaching style did not come to him quickly.
"I was a bad teacher in 1986," Taggart said. "I became a better teacher around 1994, and since about then I have been consistently teaching. I'll do it until they cart me away."
Taggart said while there was not a specific moment when he realized he needed to change his bad teaching habits, he looks back on his life and sees a different teacher in himself. He sees the change the students invoked in him.
"The worst teachers are the ones who know they know everything and refuse to listen to anything," Taggart said. "The fact that I don't know everything is itself a virtue. It means I'm open to learning. I became a good teacher because I realized how little I knew and how much I needed to learn. [I learned that] by teaching and by thinking and by talking to [students]."
Seven years ago, orchestra teacher Joey Sloan contacted Taggart by chance, according to Taggart. Though they had not met prior to the email, Taggart eventually committed to lessons.
"It has been wonderful," Taggart said. "I thank God every day for Mr. Sloan and Ms. Gearhart and Ms. Vanhook and Ms. Winkler. They are wonderful. They are joys to work with."
When senior Blaine Britton had her first lesson with Taggart seven years ago, "it changed [her] whole perspective on playing the cello."
"He has taught me some life lessons in that he really teaches me to be motivated in what I do and to be proud and emotionally involved," Britton said. "Much more than just how to play but how to feel when I play."
While his own children have grown and moved away, he has grown personal connections with students at Lovejoy over the past seven years, he doesn't only see cello students in them. He said he sees them as his own kids.
"These kids keep me young," Taggart said. "They are all my kids. I love them all. I am very grateful that Mr. Sloan called me."
Senior Weston Hall has been Taggart's student for the past six years, and Taggart calls him "the only kid I've ever had who could be president. He is just that kind of mature."
"Going on with Mr. Taggart has made me a really, really good soloist and has made me good at playing in small ensembles and performing," Hall said. "I call him a friend of mine even though he does teach me a lot."
From the first year Taggart joined Lovejoy, he said he fell in love with teaching the students. For seven years he worked with the student cellists and the orchestra teachers. It's his job to improve the skills of his students, but it's his students who changed his life.
"I just thank God every chance I have to come here," Taggart said. "It has been wonderful, and I love all the kids."