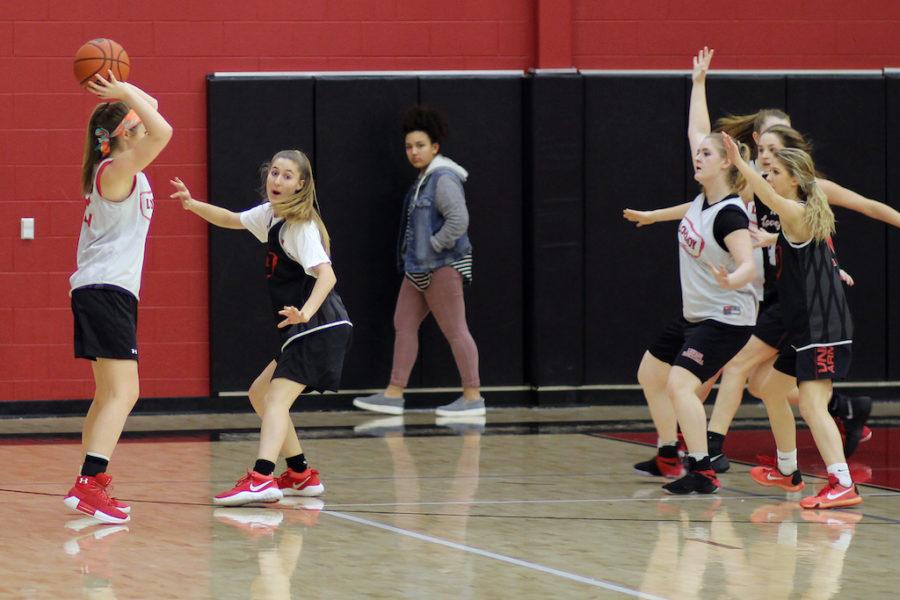 Sophie Starnes
The girls basketball team will square off against former district rival Prosper Eagles at 7 p.m. on Friday at Plano Senior High in a highly-anticipated second round match of the UIL 5A state playoffs.
Having played Prosper two years ago in district, head coach Lance Boxell and the team have experience heading into the game.
"We know several of their players having been in their district, so we will need to limit their top players and force their role players into situations that they are not use to being in," Boxell said.
The team will have an extra day of preparation for the 10th-ranked team in the state compared to the prototypical district schedule.
"This will give us the time we need to watch film and prepare to put together a game plan to give us the best chance to beat Prosper and move on to the next round," Boxell said.
Senior Taylor Meixelsperger said the team is focused on limiting the Eagles' top two players, Jordyn Oliver and Mackenzie Hewitt.
"In order to win, we will have to value every possession we have and limit their top two scorers," Meixelsperger said.
Last Monday, the Leopards were named bi-district champions as they cruised to a 49-27 win over Mount Pleasant. Seniors Meixelsperger, Kaylee Rekieta, and Kim Lyne combined for 45 of the team's 49 points to help secure the win. The team got off to a hot start, leading 16-9 at the end of the first quarter.
"I think we were very confident knowing that when we play our best basketball, we are capable of beating anyone that we play," Boxell said.
The team's scouting report paid off as it executed the game plan to perfection.
"We did a great job versus Mount Pleasant of limiting their best player to four points by limiting her touches on the offensive end," Boxell said. "We will need to do the same thing versus Prosper's top players."
The winner of Friday's game will go on to play the winner of Frisco Lone Star and Sulphur Springs.