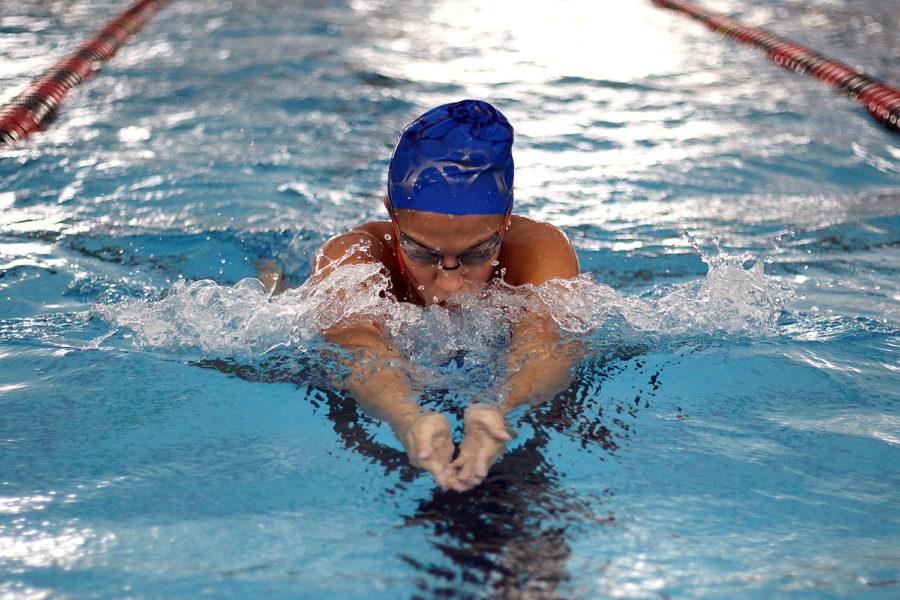 Katie Bardwell
Fresh off a regional competition that saw the swim team qualify eight individuals in addition to three of its six relay groups, the stage is set for the state competition on Saturday.
Head swim coach Matt Franks said that he likes both his boys and girls teams' chances to improve their respective performances at the state tournament.
"State qualifiers are back in the pool getting ready to take on some of the fastest swimmers in the state next week," Franks said. "I think that we have a great shot at posting faster times at the state meet."
In addition to qualifying a significant amount of swimmers, the team also shattered seven school records in last week's regional meet.
Senior Sydney Myers said that the team's continuous support of one another was integral to its success.
"I think what helped the team and I throughout the meet was the support from our teammates to keep going, even though we were tired," Myers said.
Sophomore Jakob Feldman said that the regional meet was rewarding for the swim program as a whole.
"The entire season of training all led up to regionals because, for a majority of the team, that was their final meet," Feldman said. "We had an incredible meet with most people, if not all, getting lifetime best in their events."
Franks added that the performance at regionals set a solid foundation for the program moving forward.
"Overall I think the team did a tremendous job taking advantage of the number of swimmers we advanced from districts to regionals," Franks said. "Having a total of 36 finals swims is incredible in any year and will provide our underclassmen with really valuable big meet experience moving forward."
Feldman, who qualified for the state tournament on the weekend of Feb. 16, explained that both he and his fellow teammates have areas of improvements to address before the state meet.
"The preparation for the next couple of weeks is working specifically on each swimmer's events and what we need to improve," Feldman said. "We are working everything from stroke works to flip turns, and everything else that each swimmer individually needs."
State Qualifiers
James Vaughn
Jed Jones
Sam Veitch
Jakob Feldman
Sloan Carevic
Natalie Womack
Raime Jones
Sydney Myers