A love that serves
Husband, wife risk their lives for community
Theirs was an accidental meeting. Literally.
Victoria Armendariz, just a rookie police officer, watched as two cars collided during a routine patrol. She ran to the scene. Soon, more police and the ambulance arrived, collecting information and aiding the injured passenger, a Spanish speaker. Paramedic Ted Fritzler could not communicate to his patient as he supported the man's fragile body with a neck brace. Victoria was in awe of the chaos.
"Can you assist me?" Ted said. "I need you to translate for me."
It was a coincidence. Victoria turned her focus to the patient and acted as a translator for the paramedic and the injured man, blood gushing out of his nose. Fully immersed in the accident, she did not think twice about the paramedic.
If she was not a police officer in training, if she was not a Spanish speaker, and if she had not been driving down that road at the exact moment of the accident, she would not have met him. 
But that was not the day they fell in love. Nine years ago, that was the day they met.
---
School resource officer Victoria Fritzler now spends her day at the high school, keeping the campus a safe place for students. She watches during lunches and assists administration when needed. Victoria knew she wanted to be a police officer when she was a senior in high school but didn't follow through until years later.
"It took me until I was 29 before I realized I needed to just get it done because life happens after high school, and I had my son," Victoria said. "I just decided I was going to put myself through the police academy."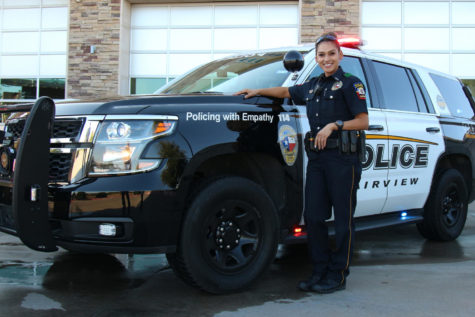 Victoria said her career in Fairview came through "a blessing." She was in the academy when a Fairview officer arrived in search of a Spanish speaker. She had a job offer before she finished police academy training.
It was through her time on duty that she got to know Ted Fritzler, the man she encountered at the scene of the accident.
"Obviously, I thought she was beautiful when I first saw her," said Ted, now captain of Fairview Fire Station 2.
Victoria said she did not notice Ted until they met again on the street. Ted saw Victoria directing traffic and offered her a stop sign to help her. Later that day, they saw each other at the station. That was when their lives changed.
"Once we got back to the station, I saw her and basically asked her out," Ted said. "I was surprised that she was willing to because she is out of my league."
They dated until the day they married, three years later, on Sept. 10, 2011, a date they easily remember because of its consecutive numbers: 9/10/11. Ted said experiencing similar work demands brings the couple closer.
"It gives us something in common to talk about," Ted said. "We can both relate to the stress of the job. It is good to have somebody who understands that stress to be able to vent or talk about things that we see or do." 
Together, Victoria and Ted raise Victoria's son Sebastian, a senior, and their 2-year-old daughter Peyton. Victoria was stationed at the high school in September, and before that she often worked during most of the day, cutting her time with Sebastian down significantly because they were only at home together at night. Her current schedule that coincides with the school day allows her to see Sebastian throughout the day.
"
We have to make sure that we live a life that reflects what we really are by what [people] see."
— Victoria Fritzler
"When I first started, my shift was 2 to 10 p.m.," Victoria said. "So I feel like sometimes I missed out on a lot of my son growing up. That affected me for about five years. You gotta do what you gotta do. Shift work is not fun. That is just the truth."
As a mother, Victoria said she relates to the parents of students at the school and her role in their lives.
"You think of your kids, and you would hope that everybody would watch over them, and I want that for everybody else," Victoria said.
When she is on duty outside of the school, she answers calls, directs traffic, and performs other services in Fairview. Ted admitted his safety is in the back of his mind, but he is always concerned for his wife.
"Especially these days when everything has been going on," Ted said. "It is not as bad here in Fairview, but when they are doing traffic stops, you never know who is going to be in that car or what their intentions are. It is something you always think about, but you cannot dwell on it or you would be a nervous wreck all the time."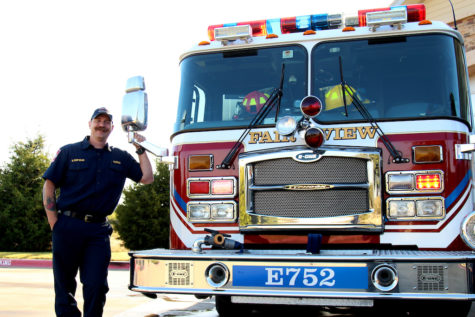 The couple is able to spend time with their daughter when they are not working. Ted works 24-hour shifts and has 48 hours off in between. He said his schedule enables him to spend those two days off with Peyton.
However, when he is working and Victoria serves at the school at the same time, Peyton has to be without her parents. Their neighbors offered to take care of her without charge, and Victoria said she is confident in her safety with them.
"[Our neighbor] is a blessing in disguise," Victoria said. "[She] is now her 'NiNi.' That's like her second mom. When [Peyton] was born, [Ted and I] had this talk about what are we going to do when [he is] working and I am working. She was like, 'Oh my God, I will watch her. I will watch her all five days if you let me.' We didn't want to take advantage of her like that. It just became where Peyton had fallen in love with her. They have bonded."
Victoria said even when she and Ted are off duty, people know who they are and that when they put away their uniforms and wear everyday clothes, they have to keep in mind what Victoria considers a 24/7 job.
"We are really never off duty," Victoria said. "How it affects the way I see the world is different. I am obviously very protective of what my son and daughter and what we do in public. We have to make sure that we live a life that reflects what we really are by what [people] see."
View Comments (2)
About the Contributors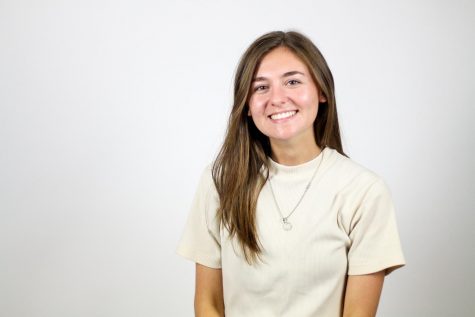 Lily Hager, Editor-In-Chief
With the coming of her fourth and final year of high school, Lily Hager eagerly awaits the senior perks that accompany all who suffer from "senioritis"–including...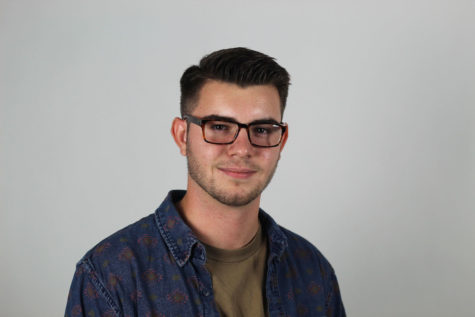 Parker Nolan, Section Editor
Senior Parker Nolan joined The Red Ledger in ninth grade and is now the paper's Multimedia Editor. His hobbies include making music, photography, and...