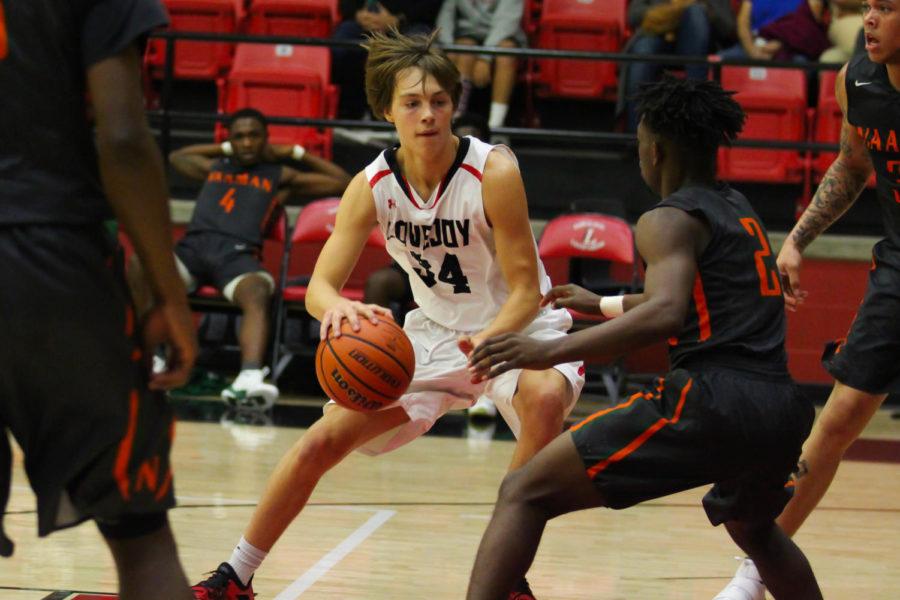 The boys basketball team (4-8) will face Rockwall (6-4) on the road this Friday at 7 p.m. After going 1-3 in the Granbury tournament and falling to a 13-1 Prosper team 51-29 Tuesday night, the team looks to get back on track before its first district game versus Forney next Friday.
"Rockwall is another great 6A program who has had a lot of success lately," head coach Kyle Herrema said. "We are never going to back down in our schedule. We could play some cream-puffs and get some extra wins, but I'd much rather compete against good 6A programs or big 5A programs and really cut our teeth on some good teams."
The Leopards started the Granbury tournament off strong with a 47-39 win versus Arlington Heights, holding them to a mere eight points in the first half.
"We had a plan to stop their shooters and executed that plan very well," junior Johnny Lawrence said.
Freshman Carson Holden showed out, hitting three three-pointers to hold off Arlington's surging offense in the fourth quarter.
"[Carson] is such a rarity. We've only had five freshmen play on the varsity. He's going to be a really good player. I think he's got a scorer's mentality, and it doesn't take much for him to get a clean look, and it's going to go down."
Holden is unphased by the pressure of being a freshman on varsity and is confident in his role on the team.
"My role on varsity is to be a shooter, 3 point line or mid range," Holden said "I don't feel pressure as a freshman on varsity because I have been playing AAU basketball which is similar to varsity basketball."
After making it into the winner's bracket, the team fell to Burleson (6-4) two games in a row and ended the tournament losing a close one to the host team Granbury (11-2).
"We were down going into the fourth quarter and battled back [in the first game versus Burleson]," Herrema said. "The kids showed a lot of grit. We had a six point lead with about 1:40 left. We made a couple bad decisions. We never want to make officials an excuse, but I was not thrilled with the officiating over the course of the tournament."
For Herrema, some takeaways from this tournament included limiting turnovers and valuing each possession.
"We have been in some tight games, and those extra three to four turnovers have been hurting us," Herrema said. "Once we clean that up, I think we will be in a lot better situations to win some ball games."
With the district season fast-approaching, the team has a couple regular season games to play before the playoffs come to mind.
"[Playing tougher non-district opponents] helps us because it shows us that we can play with the top teams," Lawrence said. "We have the mindset that we've played better teams, so now we can go out and win in district."
Herrema foresees a successful district season in January, crediting the team with having learned a lot in the first couple of months of the season.
"We are so close to getting over the hump and playing some really good basketball," Herrema said. "Each game is just a different opportunity with new situations. This team is really good about seeing something for the first time, then [adjusting]. I think if we keep on ramping up practices, then our best basketball is ahead of us."