Making 'Metalmorphosis'
Marching band centers on steampunk style for year's performances
Hang on for a minute...we're trying to find some more stories you might like.
Like a machine, dozens of legs simultaneously sweep out. Designs and arrangements, lines and figures begin to form, all while triumphant and booming music plays.
Many students will recognize the marching band every week, playing in the background of football games and taking the field during their shows, including this year's Metalmorphosis performance. However, few receive an inside glance at the process behind making marching shows and the work that goes into them.
"All of us sit around and come up with concepts," band director Paul Heuer said. "Sometimes we have music first, and then we come up with a concept like metamorphosis–the butterfly idea and all that."
The band directors keep a large easel pad in their office after marching season is over to brainstorm ideas for next year's show. In their conversation for this year's show, they bounced around several ideas, such as "airships," "hook," "city in the sky," and "tops of buildings," before settling on Metalmorphosis.
"We were talking about what kind of show we wanted to do for a long time," assistant band director Daniel King said. "We talked about steampunk for a long time, which is very mechanical and metal and all that. Somebody said something at some point, and we thought 'Oh, that's a cool idea. That's a steampunk butterfly, that's pretty cool. Let's make that into the show.'"
Each of the band directors have knowledge of pieces they'd like to use in a show. The band leadership sometimes comes up with a concept for their show, and then finds music that will apply, or will find music that it can build a show around.
"It made us think of this piece of music called 'Symphonic Metamorphosis,'" percussion director Nathan Lewis said. "And then at one point we made a joke about 'metamorphosis' being 'METALmorphosis', and so that became the theme of the show."
The band program announced the theme at an event in May, where they invited all high school and middle school students who would be participating in the show to come learn how to march and begin work on the music.
"I thought it was awesome," bass clarinet player and junior Mark Baron said. "I really like the steampunk and gears thing, that's just a thing that I enjoy."
Marching band students began practice on July 31 and continued through the month of August. The band has so far performed at five football games, and plan to perform at several marching contests going forward.
"Overall, we're in a better place than we were a year ago, for sure," Heuer said. "We think the freshman are the best freshman we've had since I've been here. As a class, they're able to catch on to stuff quick, and every year we go a into little more detail. I think, in general, we are marching and playing better than we were a year ago."
For the music of Metalmorphosis, the band directors pulled from pieces such as "Hindemith's Symphony in B Flat," "Symphonic Metamorphosis," "Writing's on the Wall," and "Festive Overture."
"We get a rough cut of what we want," Heuer said. "Then we have a meeting in February with our arranger who does all the writing, Carol Chambers. She'll send us a draft, and we'll say what to change or not, and then we give it to [the band students] after we tweak it or mess with it. In the same meeting, we have a drill writer, Chris Lambert. Sometimes once we get on the field we change it again because once we have the drill with it, it doesn't work or it needs to be changed. It's a living thing that keeps changing the whole time."
The band directors admit there are some limitations when writing and choreographing these marching shows.
"We kind of think about what would sound good with who we have," Heuer said, "We write to the strengths so we can count on that it'll sound good and look good because we are doing the specific things. We just have to be real smart about what our strengths and weaknesses are."
Flute section leader and senior Jensen Kinnebrew said band members are enthusiastic about the new show and the chance to perform together.
"I really enjoy how cohesive everybody is," Kinnebrew said. "How we're also willing to work with each other and help out. The mood of the band is really high and positive and kind of it's nice to feel like all our work is paying off, we're friends with everybody there."
The next performance of Metalmorphosis is set for halftime at the homecoming game this Friday.
"We'll get to show off what we can do," said Patrick O'Brien, senior and trumpet section leader. "Playing in the stands is really fun, to me at least. Getting to march on the field as well, especially with a home crowd. The Homecoming crowd going is to be bigger than most other crowds, so we'll get a lot of cheers and it'll be a whole lot of fun."

About the Writer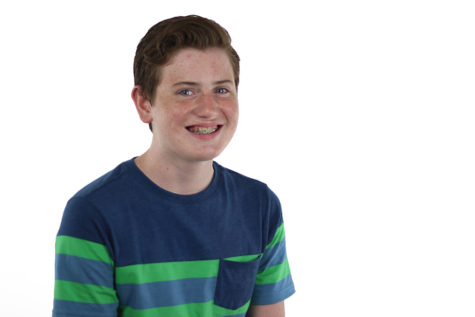 Jack Marsden, TRL Reporter
Freshman, writer, student, journalist. Jack Marsden is new to The Red Ledger staff. He joined the newspaper in seventh grade and loved the program from day one. Jack often chooses not to speak and instead to watch those around him, observing how others react. Although quiet, Jack always wants to try his hardest at whatever...