Football looks to rebound from rocky start
Team aims to get on track against the Wakeland Wolverines
After a disappointing start to the season that saw the football team (0-1 overall) drop its season opener in the Tom Landry Classic, the team will look to regroup from last week's loss in hopes of grabbing its first win of the season.
The team will head to Toyota Stadium on Thursday to take on the Wakeland Wolverines at 7 p.m. on just four days' rest after last Saturday's 42-21 loss to Argyle.
"I think our guys are excited to get back out there to play and prove that we didn't play our best game the other night and that we are better than what we showed," offensive line coach Dustin Gunter said. "Wakeland is a good team, but I think we match up well, and we're excited to get after them."
The Leopards will be squaring off against a Wakeland team that dominated Liberty in its season opener by a score of 51-17. The Wolverine offense compiled 376 yards on the ground, thanks in large part to Colby Delashaw's 181 yards and two touchdowns on just seven carries.
However, in last year's 21-14 triumph over the Wolverines, the Leopards neutralized Delashaw, who finished the night with just 10 yards on seven carries.
The Leopards appeared to be in control through the first three quarters of last year's game, building a 21-0 to start the fourth quarter. Wakeland scored two rushing touchdowns from the redzone to make things interesting, but the comeback bid ended when the Leopards recovered an onside kick with less than a minute left in the game.
Last Saturday's loss to Argyle marked the second consecutive season that the Leopards have lost to the Eagles in their season opener. On the other hand, Argyle improved its impressive streak of early-season success with its 14th opening night win in as many seasons.
Both offenses were cruising in the first quarter of Saturday's game, as Argyle led 21-14 after the opening quarter. However, the second quarter was a different story. The Leopard offense sputtered, while the Argyle offense kept the fireworks popping, scoring three unanswered touchdowns to take a 42-14 lead into the locker room at halftime.
In the second half of the ballgame, the Leopard defense pitched a shutout to give the offense a chance, but the 28-point deficit proved to be insurmountable, as the only score of the half for either team came on junior Jacob Terwilliger's 64-yard touchdown reception, which cut the deficit to 42-21.
Terwilliger, who finished the night with two receptions for 104 yards and a receiving touchdown, said that there is still room for improvement in his game.
"There are a lot of things that I can focus on this week," Terwilliger said. "I am going to focus on being perfect and doing everything that I am coached to do, and that will ultimately lead to our team's success as well as my success."
While Terwilliger and fellow teammate Chase Van Wagoner, who registered 123 yards on seven receptions with a touchdown, were dynamic in the passing game, the run game as a whole struggled against Argyle's defense. As a team, the offense tallied just 26 rushing yards and averaged a meager 1.1 yards per rushing attempt.
Gunter said that Argyle's defensive scheme made it difficult to execute adjustments throughout the game.
"We always talk about playing against ourselves and correcting our own mistakes, but they changed their scheme up a little bit," Gunter said. "We made some adjustments, but we didn't execute them."
Terwilliger said that he believes that the offensive line will improve from last week and open up holes for the running game against Wakeland.
"There was nothing in particular Argyle did to stop the run," Terwilliger said. "Our O-Line needs to focus and give [running back] Jahi [Rainey] just a little bit of room to run, and he will make the plays."
Gunter also said that the offensive line should sharpen up with experience.
"We had a lot of new guys who hadn't played on Friday night before and guys that were playing in new positions," Gunter said. "We have to be more physical, and I think that just comes with experience and playing time. Starting over with a new system and working out some of those kinks with a new offensive coordinator is going to take a little bit of time."
From a defensive perspective, the Leopards will look to continue their momentum from the second half of last week's game.
"Our defense learned a lot from last week," senior defensive end Cade Krisher said. "It was definitely a wake up call. Having them score 42 points in the first half due to missed tackles and missed assignments, and then shutting them down in the second half, I feel like we got our boots on the ground and figured out what we needed to do."
About the Writer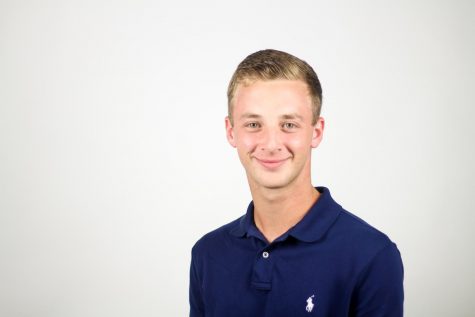 Benjamin Nopper, Section Editor
After joining staff and becoming an editor his sophomore year, Benjamin Nopper is enthusiastic to spend his senior year in the newsroom he considers...