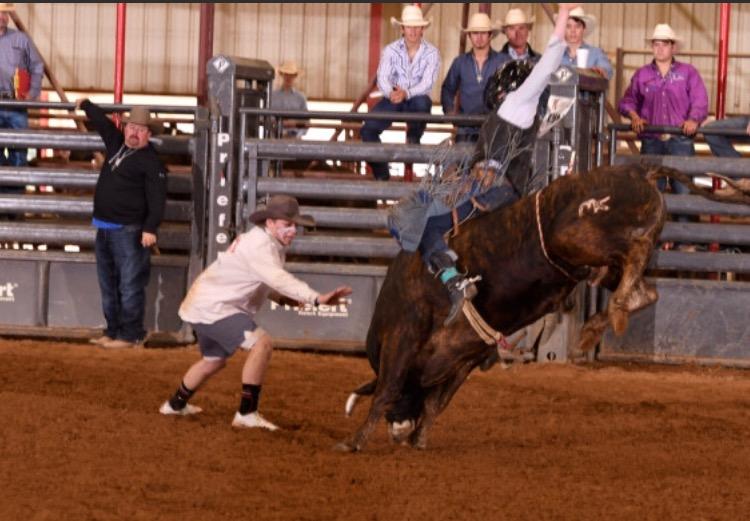 Courtesy of Luke Casteele
There's one thing junior Luke Casteele can't think about when the bull targets him, when the audience shudders, and when the bull rider's life is in his hands.
The danger.
Despite the peril, which concerns his friends and family, he has to act quick.
The bull doesn't know it's a show.
Casteele is a bullfighter, a job known to many as a rodeo clown, but there's no humor in his act to distract the bull from its anger–to redirect its rage from the bull rider to himself, protecting the other lives at stake in the arena.
"If it wasn't for [cowboy protecting], the bull riders wouldn't be able to go to their next rodeo," Casteele said. "It would be a higher chance of them dying out there if it wasn't for me. It's just a risk factor; I'm insurance to them. They kind of praise the bullfighters."
Casteele's grandfather also worked in rodeos, and he would often take young Luke to his shows. Despite the violent bucking and drama the bull riders offered, he anticipated the bullfighters' entrance instead, his attentive eyes searching.
"Every time I would go to the rodeo [with my grandfather], the bullfighters would be the guys that I watched," Casteele said. "The last two years, that's all I've been doing–bullfighting."
Even though his passion puts his own life at risk, Casteele is confident in his abilities. If he lets fear grip his mind, he might not walk away safely.
"It's half adrenaline and half knowing what you're doing," Casteele said. "You know how to do it, but it's kind of like being in a football game and doing a math problem at the same time. Every once in awhile, you'll get a bull who puts you on the ground, and it's kind of scary."
Pressure grows as Casteele strengthens his skill and his audience grows. His recent shows drew crowds of 500 to 600, but Casteele plans on bullfighting in the Kueckelhan Ranch Rodeo in July with 15,000 to 20,000 people watching.
Those who trained Casteele said they are proud of his progress because he's progressed well since he joined the Bonham Ranch. His mentor, Rope Irwin, yells advice and commands from the outside of the arena, watching his moves and ensuring his safety. Irwin is a flankman. He secures a flank strap around the bull in the chute before it's released with the bull rider to intensify its bucking. Casteele and Irwin are both 18, making them some of the youngest people at the ranch. They often tend to the bulls at the ranch and travel to shows together. Their ages, Southern roots and accents, and similar interests have created a bond closer than typical work relationships.
"We rodeo and see each other every weekend, so we're pretty much family after a while," Irwin said. "He stays at my house during the rodeos and we travel together. It's pretty fun."
Irwin said he's happy for Casteele and his advancement to larger shows, though it means he may leave the Bonham Ranch which was meant for beginners.
"With a couple years with us, we want to see [our students] go somewhere," Irwin said. "We don't want to keep him forever. We want to see him go on from here and go pro or anything he wants to do."
While strong relationships with coworkers on the ranch were a gift, they were no surprise. However, Casteele didn't expect to find a special girl to share his interest. Now he's dating senior Jenna Evans, who travels with Casteele to work at rodeos. She can't attend every show, though, and when he bullfights without her, she's always apprehensive for his safety.
"I have a love-hate relationship with him bullfighting. I'm constantly texting him, 'How did you do?', 'How was it?', and 'Are you OK?'" Evans said. "He always, always, always will call me and say [he's] on his way to the hospital."
Casteele jokes with Evans as if injuries were preposterous, and though she remembered his phony calls with a smile, concern clouded her eyes because she knew he could be harmed easily by the raging bulls.
"It's not funny," Evans said. "[His safety] is a concern, but I know he's smart about what he does, and he tries his hardest."
Evans also competes in rodeos as a barrel racer, weaving through barrels in patterns while riding a horse. While she watches out for Casteele and watches his bullfighting with careful eyes, she also seeks his advice in her own sport.
"He's my number one fan, and I'm his number one fan," Evans said. "It's honestly awesome after my runs to [ask him] what I need to work on. He's been around me enough that he knows how to fix my problems, and I know how to fix his problems. We just help each other out."
The two of them hope to join the Texas Tech University rodeo team together in college.
"That's really why we both work our hardest," Evans said. "We both want to use the bullfighting and rodeoing to get us to go to college and get a scholarship."
Even though their sport brought them together, it's each other that keeps them returning to the arena. They agreed that, without their relationship, their love of rodeo would not be as strong.
"The bull riders wouldn't ride if it wasn't for me, and I wouldn't fight if it wasn't for Jenna," Casteele said. "She's my motivation most of the time. We both love the sport of rodeo, and if it wasn't for each other we probably wouldn't be as into it."