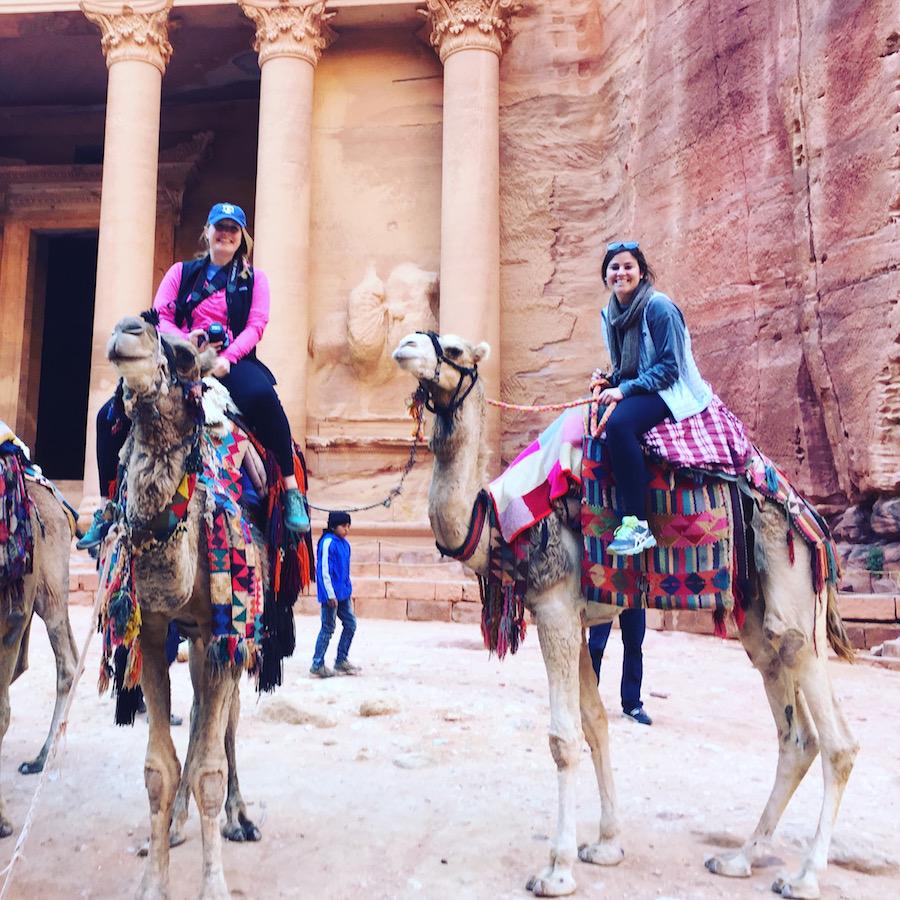 Courtesy of Courtney Todd
The air was cool, and the sky was shining in recovery of the constant rain from the week before her arrival. She listened to her peers read the Beatitudes from the exact location her Bible told her Jesus had taught them, and when she heard the words echo off the hill, she imagined the sound reaching the first audience to hear the message, 2,000 years ago.
"I remember everything seeming both new and old simultaneously," said Courtney Todd, 9th and 10th grade GT english teacher and assistant soccer coach. "I have stood on other hills and seen other beautiful landscapes, but something about the sun setting on the Sea of Galilee, the yellow flowers sprouting among the knee high grass, and the significance of standing in a town where Jesus did 80 percent of his ministry is something I know I will always remember."
Todd took a break from teaching Feb. 14-25 to fly to Israel with a group of 47 people from her church who planned the trip through Morningstar Tours. She said she hoped to attach significance to the places she had always read about.
"I have always wanted to go to Israel, and when I heard a group of my peers from my church talking about going on the trip, I was so excited," Todd said. "I wanted to have the historical events in the Bible come to life and understand scripture in an HD way and get to walk places where Jesus had walked and basically have a greater understanding for Biblical events based on having seen them firsthand."
A longtime friend of Todd's, Maggie McCarty, also went on the trip.
"This has been a trip that Ms. Todd and I both have wanted to do for a long time," McCarty said. "[We've] just heard how life changing it can be getting to see the Bible come to life, and so we had talked for a long time about [wanting] to do this someday, and the opportunity came up at our church, so we jumped on it."
The group changed locations and hotels in Israel almost every day by busing for hours to different sights, including the Sea of Galilee and where Jesus stood and preached the Sermon on the Mount.
"This trip affirmed my faith, and it was incredible getting to read scriptures that I've read several times at the exact places where they occurred," Todd said. "We got to read from the Sermon on the Mount and hear the Beatitudes on the Mount of Beatitudes in Capernaum where Jesus would have said them, and his voice would have echoed down into the seashore, and we got to see that."
Todd said her experience was beyond her expectations.
"I don't think I realized how much we were going to be able to see and accomplish throughout the time we were there," Todd said. "I didn't realize we would have extended time on the Sea of Galilee outside of boats, and I didn't realize that we would get to go into Jordan and ride camels."
Todd said the native people were "wonderful," "incredibly friendly" and "very knowledgeable." The group was led by a tour guide named Ron Singer, who Todd described as animated and loved sharing about his nation.
"We often remarked to our group that if we were leading a tour in Dallas or the United States, we didn't know if we would have that much knowledge about American history as all of our guides had about their own nation," Todd said.
Traveling to several areas of Israel with the guide helped the group build an awareness of what it would be like to travel there in 2,000 years ago like the Bible describes.
"It's hard to put into words sometimes," McCarty said. "I think [Todd and I] were both surprised by things because [we] read about different stories and different places, and to see it, [we] were like 'oh, that's not what I imagined it would look like.' But it's really cool to stand in the same spot that these events in the Bible happened, and now looking back, we have that mental image that we didn't have before of reading these things and saying 'I was there and I know what that looks like,' and how far it would've been to travel from place to place and things like that."
Visiting Israel allowed Todd to remember stories she had studied several times in the original setting–an experience most of the group never had before.
"I think my biggest takeaway from the entire trip is that God is really big and I'm really small, and this life is not about me at all," Todd said.