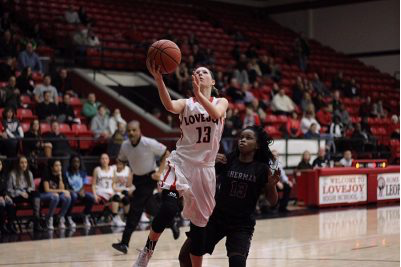 Mandy Halbert
Currently on a six game winning streak and only one loss on the season, the girls basketball team will play their second tournament of the season, when they travel to Lufkin Hudson on Thursday, Dec 1.
Pool play will tip off on Thursday, as the team will face Buna at 4:30 p.m. The team will continue pool play until Saturday when bracket play begins.
On Tuesday night, the team exerted their dominance once more by defeating Melissa High School 55-36 to extend their winning streak to six games.
Junior guard Taylor Meixelsperger was impressed with her team's play against Melissa on both sides of the ball.
"We had some good defensive spurts by talking a lot and crashing the boards hard," Meixelsperger said. "We also did a good job on offense by being patient against their zone defense."
Over Thanksgiving break, the team earned another win in a non-district game by dominating South Oak Cliff 68-39 to improve their overall record to 5-1.
Before Thanksgiving break, the team played in the Colleyville Heritage tournament, winning three games and only losing one. After a close loss to Midland Lee, 48-46, the team came back to win three games in row, defeating John Paul II 37-34, Lewisville 46-41, and Sherman 67-54 to win the consolation championship.
Coach Lance Boxell was impressed with his team's fight throughout the tournament.
"That was a good win for us because Sherman had beaten us last year in district play," Boxell said. "I think us winning proved to our players that we have improved from last year to this year."
Boxell said experience has been the key to the team's early success.
"We are now an older team and have learned through the tough experiences from last season to become a more poised and competitive team," Boxell said.
Three members of the team were recognized by MaxPreps in placing in the top 100 in a specific statistical category.
Senior forward Allison Hubble is ranked first in the nation in taking charges. Hubble is currently averaging 2.7 charges per game which is more than double the next player ranked in that category.
"Taking a charge is something that requires an individual to sacrifice their body for the team because there is going to be contact and it is not going to feel good," Boxell said.
Junior guard Taylor Meixelsperger is ranked in the top 100 in the nation in both made free throws and assists per game. She has 50 made free throws on the season and is averaging 5.8 assists per game.
"Not only is Taylor scoring the basketball, but she is also helping other players get involved by making passes that lead to teammates scoring," Boxell said.
Junior guard Kaylee Rekieta placed in the top 100 for blocked shots per game. Standing 5-5, Rekieta has not allowed her size to get in the way of her aggressive play.
"Kaylee makes up for her height with her relentless play, never conceding a basket to the opponent," Boxell said.