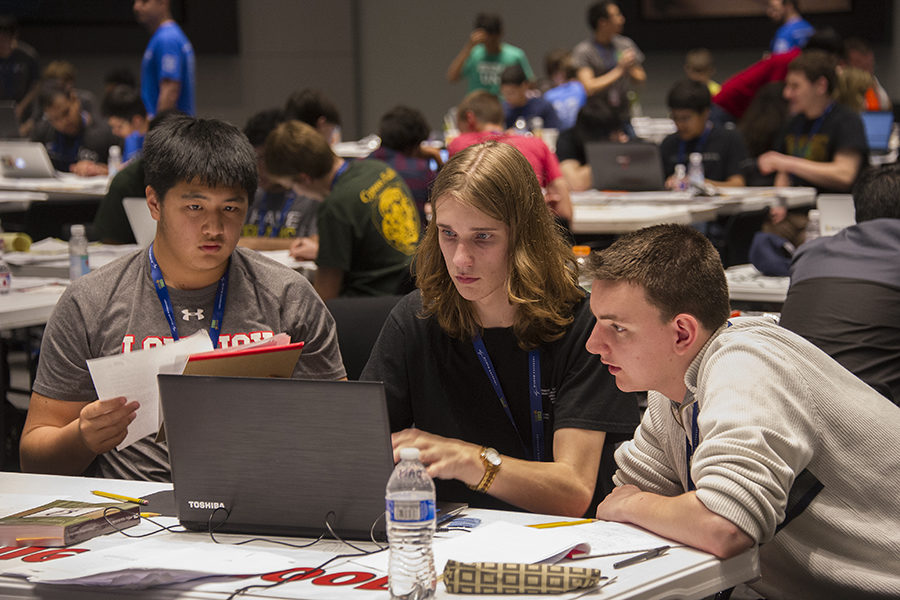 Photography by John E. Wilson M.
It's 4:15 p.m. on Tuesday in B232, and the advanced computer science team is hard at work.
The team is not all together in one spot within the classroom, yet there's a unity within the atmosphere. The problem at hand is a scenario where a person is trying outrun volcanic lava in a race to a cave.
While on paper it seems like nothing out of the ordinary, what they are putting in on the computer is something of a foreign language. It's like seeing a math problem in English, and solving it in Chinese. They discuss whether to use "Dijkstra's algorithm" within their "recursive methods" or to use an algorithm with no name.
The team in in sync when they are speaking "code," but what makes their skill more impressive is that this is still a relatively new team with only one year of experience.
There's junior Sam Bell, the walking encyclopedia. Senior Marcus Mao, who doesn't want a leader within the group but fills in that gap. Senior Brice May, the short problem equalizer. And senior Thomas Rousey, the team's jokester.
The young team did not have an easy road toward UIL state last year.
"Our district is very strong in computer science," computer science Pam Ford said. "We ended up being ranked third in the state from total points scored in all of our competitions, and placed first in district."
Though it seemed that their journey had ended in regionals when they didn't get first, because of their successful season, they earned the wild card spot, giving them another crack at competing in state.
"We were looking at the numbers of how we did on the UIL website and we're excited to still be able to go to state," Bell said.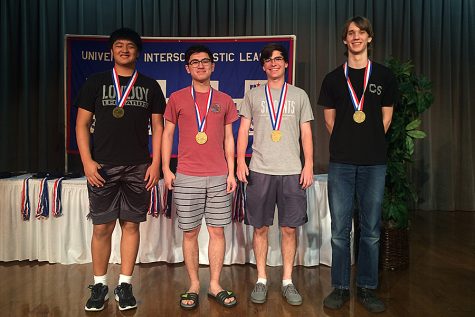 The other schools' teams were primarily loaded with seniors, while Lovejoy's team last year was composed of three juniors and one sophomore, all with desires to pursue computer science in college. They were heading to the highest competition possible for high school, and these four kids had still not completely finished all of the computer science classes.
"I feel like the other teams kind of had an advantage because they had more time, so they knew what they were doing," Bell said.
With the first day of competition being testing, and the second day being programming, the LHS team was able to defy the odds and claim third place, one point behind second, and two points behind first.
"We knew it would be hard," Ford said. "It just ended playing the exact same way in regionals."
While they perhaps didn't bring home the gold, they showed true potential. They just finished their first practice competition last weekend at Frisco Liberty, getting a feel for the season.
"This year we are really hoping to win it," May said.
They have an upcoming competition at the University of Texas at Dallas on Nov. 9. With their eyes on the prize, Ford said the team upped the ante and have expanded their knowledge of varieties of algorithms, so they can be as efficient as possible.
"Their goal is to win state," Ford said. "I expect the kids to work better this year, and work harder towards their goal."