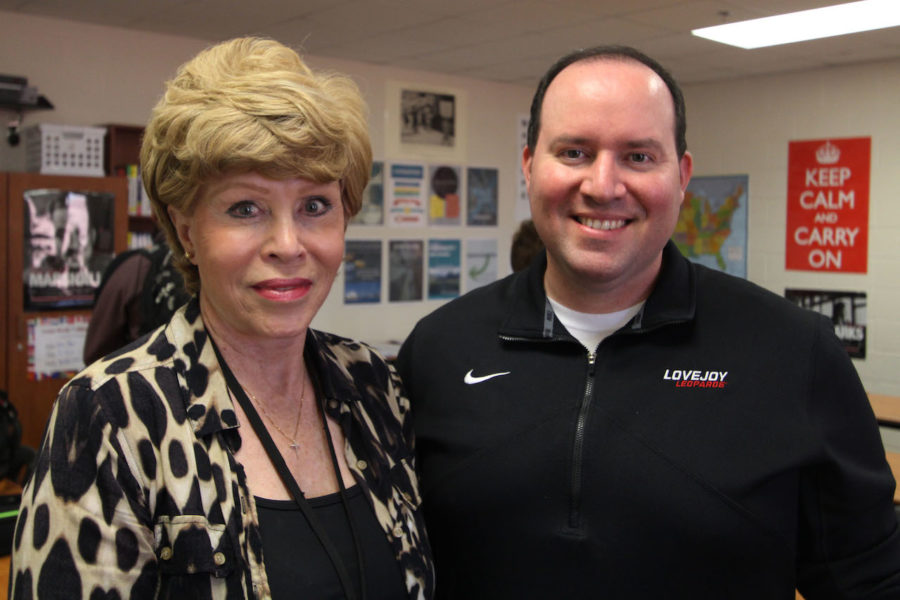 Carter Bryant
Elvie Trevino's bright smile welcomes the students who walk through the door of "her" room.
After being a high school counselor for nearly 40 years, a college professor for six years and then retiring, Trevino has decided to return to teaching, but this time in a different way.
"I've always worked, so I thought it'd be neat to just stay home and do nothing, but then I got bored to tears," Trevino said. "You can only watch so many soap operas and then that's it."
After mentioning her dilemma at a family dinner, her son, college counselor Randy Trevino suggested that she work as a substitute teacher instead of taking a full-time teaching job.
"In our administrative meetings, there has been a need for subs," Randy said. "She loves the high school, she loves being in the setting and she loves students, so I told her, 'hey why don't you come help us out, make a few bucks, and you'll be around people that you really enjoy."
Initially Elvie planned on working at Allen High School because of how close her home was to the school.
"[Randy] said 'No way. You have to come to Lovejoy, because the students at Lovejoy are awesome," she said. "So I started subbing here last spring, and it was a life saver."
According to Trevino, subbing is a way to do something she really enjoys: being around teens.
"This is fun," she said. "Students keep me thinking young, keep me healthy, and look forward to coming."
Lately Elvie has been the talk of her halls for something students call "life lessons."
"She's seen a lot from a guidance perspective, planning, things along those lines," Randy said. "She thinks big picture kind of how I think. She really cares about students and their future."
According to Elvie, she believes she sees great things for the future of students.
"The more students I see, the more students I meet, the more I'm convinced that y'all are an awesome, awesome bunch," Elvie said. "And I tell many people I'm convinced that the future of our country is in good hands. You guys are gonna fix whatever mess we leave."
Working with students is a way for Elvie to encourage students to "be the best they can be."
"You cannot look in the rearview mirror," she said. "You can't do anything about what's gone in the past, but you have control of today and tomorrow. You can choose to be mediocre, or you can choose to kick tush. You can prove to yourself and to the rest of the world what you're really made of. Basically I just say 'Be the best you. Don't waste the opportunity.'"
Elvie said she enjoys forming bonds and interacting with students.
"She's very empowering and inspiring," junior Mikey Franks said. "She likes to talk to students and know about their lives. She turns everything into a life lesson that you can learn from. I find her very positive and impactful in my life."
She says she hopes to continue working with students for as long as possible.
"I feel safe here," Elvie said. "I'm just me, and that's all I know to do, to be genuine and real, and to love [the students], because I do."