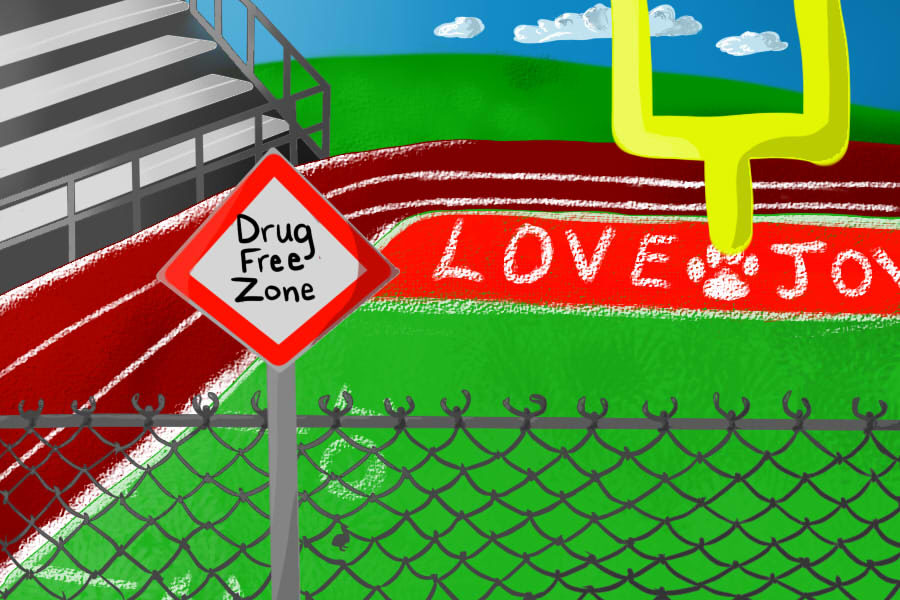 Avery Degenhardt
Student-athletes are being tested today for a variety of drugs, including alcohol, steroids, marijuana, opioids, and amphetamines as a part of the district's new program that Board of Trustees President Chad Collins said has the intention of giving students the incentive to say no when faced with drugs and alcohol.
"Parents, administration, teachers, and even students had an interest in giving kids an opportunity to not go down a path of drugs and alcohol," Collins said. "A lot of school districts, not only around us but across the country, drug test and we wanted to do our part to help curb drug involvement and abuse amongst students."
The new program consists of the all-UIL athlete test today as well as four to six tests of randomly selected athletes throughout the year. With its implementation, LHS joins the 26.6 percent of high schools that have some form of student drug testing, according to the CDC, all in hopes of reducing student drug use, a mission both Collins and assistant athletic director Kyle Herrema said is at the core of the new program.
"We wanted to make sure that we are doing everything we can to know our kids are safe and making good decisions," Herrema said. "I hope this program is an out for some kids if they are at that party and someone is offering them something, that athletics means enough to them that they say they don't want to be there or take that substance."
At the beginning of the year, all student-athletes were required to turn in a signed contract pledging to not consume, possess, nor remain near the consumption of alcohol or illegal substances, and Herrema said that the consequences of violation outlined in the contract attest to the program's purpose.
"Because we are just introducing the program, we didn't want to come out with a super harsh policy that we haven't had in the past which is the reason why athletes miss only 10 percent of their season upon a first violation," Herrema said. "We're not trying to get a 'Gotcha!' type of moment. We want to help kids make good decisions."
Junior Bretton Laboret voiced his concerns with the date of the first test, coming just days after Saturday's homecoming dance.
"I disagree with the timing of the testing being after homecoming because there are a lot of individuals who would make choices they wouldn't normally due to it being a special night," Laboret said. "So those kids that don't have a serious problem with drugs and alcohol will be put through the program when they aren't the ones that need it the most. As much as they said they weren't trying to catch us, it feels that way due to the timing."
Along with sitting out for a part of the season, a first offender will receive a structured intervention plan that includes counseling, progress monitoring, and random drug tests every six weeks. Every subsequent offense will include a revisal of the intervention plan and an additional 10 percent season suspension.
"We're still determining who will be conducting the counseling of the athletes, but we want to make sure they have the right background," Herrema said. "I don't believe we will we be bringing in a counselor outside of the district, but rather someone on staff who has the proper training for drug and alcohol counseling."
While student-athletes found guilty of violating the athlete contract on first offense may only miss 10 percent of their season, freshman soccer player Madison Hubbard said no sporting time should be lost for athletes.
"I think it's alright that they're testing us, I just don't think that they're going about punishments in the right way," Hubbard said. "They shouldn't take sports away from us. They should focus more on getting you help. I think if that sport is something that that person really enjoys, that could be keeping them from going full-on into drugs. They should send [positive testers] into rehab."
Even if an athlete doesn't test positive for drugs or alcohol, he or she still faces the same consequences if evidence is brought to the administration regarding an athlete possessing an illicit substance or staying in an area where said substances are present.
"We would have to have very compelling evidence, for example, a picture on social media, to determine if an athlete violated his or her contract," Herrema said. "We certainly wouldn't go on innuendo or rumor but they would face the same program and consequences as a positively tested athlete, and that is supposed to be a part of the deterrent the program provides."
According to Section 106.06 of the Texas Alcoholic Beverage Code, parents are allowed to furnish alcohol to their child if they are present when alcohol is being consumed; however, those conditions would still count as a positive test under the program. Furthermore, students who have consumed an alcoholic beverage within the past three days will show up positive on today's testing.
"Another question I've been asked is about adult parties, and if it's the adults who are consuming the alcohol then it's not a violation," Herrema said. "The difference is if it's a party with alcohol conducted by parents for kids, it's a violation. I also think that, as an athlete, our expectations are higher for you, and that means that we expect that you are not taking alcohol even if it's given by your parents because if it's in your system, it's going to count as a positive test."
Only UIL athletes will be drug tested under the new program in its pilot year, Herrema said. However, Collins said the testings could be extended to other programs depending on its success in deterring athletes.
"Obviously we want to make sure it's done right and is a helpful deterrent for kids," Collins said. "We want to see how it goes with the athletic program and depended on the results, determine whether or not to expand it to other extracurriculars or even offer it up to parents for their kids within the school district."
Privacy of results is a concern of many school drug tests, and Herrema said that there are measures in place to protect the athlete's privacy. For example, knowledge of a positively tested athlete will be limited to the student's parents, athletic director, assigned counselor, and coach of the athlete's sport. The Family Educational Rights and Privacy Act also protects the privacy of student records.
"The Supreme Court's decisions [Vernonia vs Acton and Board of Education vs Earls] ended the debate of whether or not schools could drug test for extra-curricular activities," said Dennis J. Eichelbaum of Eichelbaum Wardell Hansen Powell & Mehl, P.C., Lovejoy's district representative. "The Court signaled its support of schools' fights against illegal drug use as well as the long established position that there is no right to participate in extra-curricular activities."
While drug testing programs have become a popular option in the country to reduce drug use among students, many organizations including the Students for Sensible Drug Policy, American Academy of Pediatrics, and the American Civil Liberties Union have spoken out against drug testing in schools due to its negative effects on students.
"SSDP unequivocally and vociferously opposes student drug testing," said Scott Cecil, outreach coordinator for Students for Sensible Drug Policy. "Student drug testing breaks down the bonds of trust and mutual respect between students and school faculty and administration. In addition, a risk factor that may lead young adults toward drug misuse or abuse is a lack of participation in extracurricular activities. As such, the most likely outcome of drug testing students is that they will leave extracurricular activities rather than to discontinue the drugs in question."
Others, such as Lake Travis ISD deputy superintendent Mary Patin said they believe drug testing is an effective measure in decreasing student involvement with drugs and alcohol. While planning the new program, the administration looked at current drug testing programs such as the one at Lake Travis to draw inspiration.
"We began the LeaderForLife (LFL) program Feb. 1, 2016. The first week we had 150 student sign up and ended the year with over 700 students enrolled in LFL out of 2,600 in the school," Patin said. "I think we have been successful in giving kids a positive peer group and a way out when they find themselves in difficult situations. We will be surveying our students this school year to determine the impact of LFL on their lives. We started the year and added about 150 students this year, so I would say they do support it, at least those who have enrolled."
Results for the drug tests conducted today are expected to return in one to two weeks once proper analysis is completed.