Eric Miller
Jacob Parrott doesn't remember much from the day half his world went black.
He only remembers the panic.
"It just happened very quickly," Jacob said. "My eye was swollen shut, and [there was] a lot of blood."
July 18 was an off day for Jacob, a 2016 graduate, who was playing for a collegiate summer baseball team at the University of Oregon. He, two other teammates, and two coaches decided to enjoy their free time by playing a game of golf.
That was when a golfer accidentally struck Jacob's right eye with a golf ball from about 30 yards away.
"The eyeball was ruptured, the retina was detached, the optic nerve was damaged, the lens got knocked out," Jacob said. "I mean just about anything that could happen happened. But [the doctors] weren't sure the extent of it."
Jacob was rushed to an eye doctor that the mother of the host family he was staying with worked for, and was told he would need surgery. His father, Forrest Parrott, whom Jacob called shortly after the accident, boarded a flight from Dallas to Oregon that day along with Jacob's mother.
"We had to drive an hour to where the surgery was going to happen, and I was there the rest of the night," Jacob said. "The surgery was about two-and-a-half hours. When I woke up the next morning they told me they did all they could, but it wasn't very successful."
Forrest brought Jacob back to Dallas as soon as he could "because [he] believed that [Dallas] was where [he] could get the best care." However, they were only met by another problem.
"Wednesday morning we flew home, and Thursday we saw one of the best retinal specialists in Dallas," Forrest said. "She introduced me to a word that I find one of the most despicable words in the human language- it's 'denucleate.' It means 'take an eye out.' It's just a horrible word. She said, 'That's what needs to happen,' and I just couldn't accept that."
Forrest then began an extensive search for surgeons, and his "firm belief that someone out there would try" kept him going throughout the endeavor. Eventually, he discovered two doctors in New York that looked promising.
"The first surgeon also said the eye was not savable," Forrest said. "But then we went to the third doctor. His team looked at it and said, 'We're willing to try.' What Jacob's mom and I told all the doctors was, 'If the eye has to come out, lose it in an attempt to save it. Don't just take it out.'"
Jacob's eye was saved in the surgery, in which he received a corneal transplant from a 20-year-old donor. The extremely delicate process took seven hours to complete.
"Imagine trying to put a wet tissue around a small water balloon that's already broken apart," Forrest said. "[The surgeon] had to get the water balloon, the globe, sutured up in a way that it would hold, and then the retina wraps around it- that's the paper tissue. He was able to, tiny piece by tiny piece, get it all back together, and then he injected gel into the eyeball. He doesn't have vision yet, but the surgeon who did it called it a miracle, and I believe that, honestly. There were just a lot of people praying for Jacob."
While Jacob said he is still "basically blind out of [his] right eye," he could see light the morning after his surgery was completed, and that is what Forrest said was the miracle.
"I can see light when it's shined directly into [my eye], which proves that the optic nerve is firing and gives [doctors] hope that down the road they can restore some vision," Jacob said. "But, that might not be for close to a year. I was the 15th person in the world to go from not seeing any light to seeing it again."
Despite the fact that, for a time, Jacob experienced the prospect of not having a right eyeball at all and of never playing baseball again, he remained positive with the help of loved ones.
"I had a lot of support from family, friends, coaches," Jacob said. "But it was tough. Me and my family looked up stories of what had happened to other people and just held out hope as much as we could."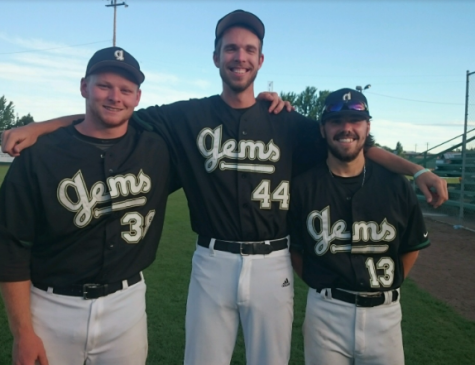 Friends and family also helped Jacob in a more hands-on way.
"The first day he got back in town he texted me and asked if I wanted to come see him," 2016 graduate Dakota Michaels said. "I went over to see him and his mom had to put in like six different eye drops in that one eye every hour or so. His mom was doing his sister's hair and he wanted them in, so I just put them in for him and that kind of became a routine- I just put them in for him when I was there."
Though Jacob is still on the road to recovery, he received word on Sept. 20 that the team physician had cleared him to play baseball for the Oregon Ducks.
"It was great news," Jacob said. "It will be a long process to get back to the playing level I was previously at, but I'm excited to get going again."