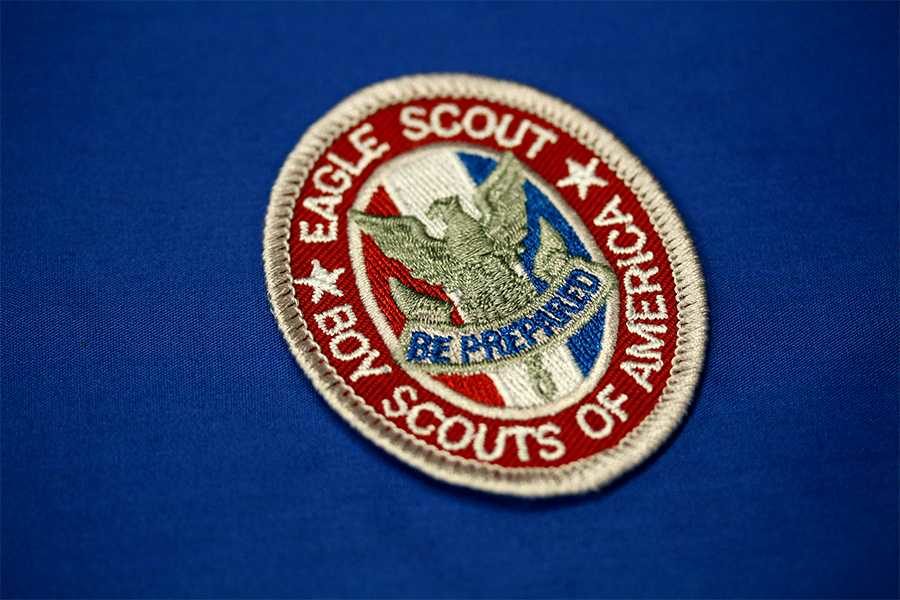 Mandy Halbert
For any potential Eagle Scout, their board review experience ends in one of two ways: acceptance or rejection. His palms are sweating, his legs are shaking, and out of the door comes the three people whom he held an hour-long conversation with. All the hard work, dedication, and perseverance he's maintained over the past few years has all boiled down to this single moment.
As the end of school and summer approaches, students have their minds on pool parties, vacations, and the thought of no schoolwork for three months. Although this is true for the majority, for some boys around the country, the work is just beginning.
These upcoming months mark the season when Boy Scouts typically begin applying for the highest scouting rank, Eagle. Junior Jalen Fields is in the middle of this process while Eagle Scouts junior Matthew Cinquepalmi and senior Kerry Joiner know exactly what Fields is going through.
Earning the title of Eagle Scout is a prestigious honor because a small number of Boy Scouts eventually earn the highest rank.
"Not every boy who joins a Boy Scout troop earns the Eagle Scout rank; only about five percent of all Boy Scouts do so," the National Eagle Scout Association website said. "This represents more than two million Boy Scouts who have earned the rank since 1912."
This statistic makes Joiner's and Cinquepalmi's achievement even more special and pushes Fields to work even harder.
Boy Scouts typically begin as Cub Scouts in elementary school. For many, their journey into Boy Scouts and potentially into Eagle Scouts is encouraged primarily by family members. While attending elementary school, Fields joined Cub Pack 404 in order to follow in the footsteps of his older brother, Jalen, while Joiner and his three brothers, Kendall, Hunter, and Trevor, joined Cub Scouts due to the encouragement of their father.
"My dad really likes [the Boy Scouts program], so we all kind of followed him into it," Joiner said. " It just really took off from there."
Even though two of Cinquepalmi's uncles are Eagle Scouts, he was mostly intrigued by the outdoor activities Boy Scouts has to offer.
"I started because I've always been interested in camping and outdoors, and Boy Scouts is a really good opportunity to get to know people and do those things," Cinquepalmi said.
Part of the process of applying for the Eagle rank is completing an Eagle Scout Service Project which is meant to benefit the community. Joiner became an Eagle Scout in 2015, and, for his Eagle Project, he built a long boardwalk across in river at Plano. Cinquepalmi, who earned Eagle in April, decided to assist the church he attends with a one of the facility's problems.
"My Eagle Project took place at Faith Lutheran Church over in Plano," Cinquepalmi said. "They had a pretty large flower bed full of old, faded mulch, and they had a problem where every time it rained it was in the runoff area, and the mulch would flood out. We took all the old mulch out, dug trenches around the edges of the flower bed, and then filled it in with new mulch."
Originally the church was planning on taking care of the flooding on their own until Cinquepalmi stepped in.
"The church was actually planning on doing that project on their own, and so at the time I was looking to do a project so I went to them and said 'I'll come take over the project, and I'll implement my own ideas because it has to be my project technically,'" Cinquepalmi said.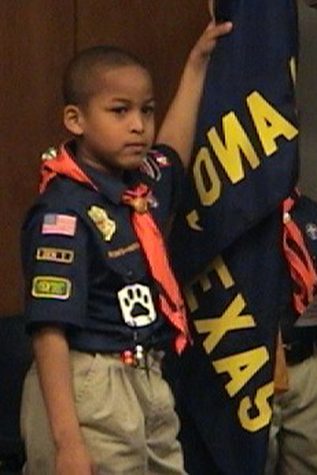 Most recently, Fields decided to combine his faith and love of sports in order to host the "Get Fit 4 Christ Mini Sports Camp" at LightChurch. The camp hosted over 45 kids on April 30.
"I like sports, and [LightChurch] needed help with their youth program, so I put the two together," Fields said.
Giselle Hamilton, Jalen's cousin and Ministry Director for Kids for Christ at LightChurch, was immediately drawn to Jalen's project idea.
"Jalen approached me with the idea to host a mini sports camp," Hamilton said. "He thought hosting a mini sports camp would be a great idea to bring the ministry and the children in our community together. I knew Jalen would be more than capable to lead such an event."
The children attending the event were offered a variety of activities.
"We had football, basketball, soccer, and kickball, and they all went really well," Fields said. "They all had a lot of fun."
In order to fund the event, Jalen collected more than $500 from a variety of sources.
"I asked family and friends and put some of my own money in there," Fields said.
Additionally, there is a possibly that his sports camp may become a tradition at LightChurch, according to Fields.
"I donated everything to the church: all the goals we built and the balls," Fields said. "So if [LightChurch] ever wants to do it again, we can set it up."
Another formality of the application process is the board review. During the board review, the potential Eagle Scout presents himself to a board of about three people. The Boy Scouts are asked questions ranging from a wide variety of topics, and every boy's board review experience is different.
"It's always nerve racking," Cinquepalmi said. "It's a very in-depth interview about your past seven years of scouting. It was a lot of preparation leading up to it. I had to make sure that I was prepared for the questions they would ask. I had some prior experience based on the tons of interview I did for all the other ranks. This board review is more about how scouting has made me a better person, better leader, better man."
Joiner's experience differed because he had a personal connection to one of the board members.
"The board review was interesting because my dad sat on the board because he's our scoutmaster," Joiner said.
The journey into becoming an Eagle Scout definitely comes with many challenges.
"The hardest part was probably the period of time [last year] where I was the senior patrol leader," Cinquepalmi said. "Pretty much all Boy Scout troops are boy led which means there are adults present, but the boys kind of take control of everyone else there. I was the senior patrol leader, and that was really challenging. I didn't get a lot done as far as personal advancements because I was so focused on making sure that everyone in the troop was advancing and having a good time in general, so that year was the hardest but also the most fun. I learned that I love teaching kids and leading. It was hard, but it was the best experience I had in boy scouts."
Despite these challenges though, most Boy Scouts find the motivation to earn the highest rank through multiple sources.
"My parents definitely pushed me," Cinquepalmi said. "When I first got involved, it was mainly just for fun. I wanted to go outside and hang out with my friends, but then as I started getting deeper into it I realized this is a huge opportunity for college and job applications. It was personal goal, but also my parents pushed me really hard."
Eagle Scouts can benefit from earning their esteemed ranking. Aside from the ranking being a great addition to a resume, Eagle Scouts often walk away with a lot of knowledge.
"It's taught me a lot of things that I may need in the future," Joiner said. "Leadership [skills] especially in how to take initiative over something and how to tie knots."
The life skills boys learn from Boy Scouts are priceless, Cinquepalmi said.
"You learn a lot about leadership and how to be a better person," Cinquepalmi said. "I think that'll benefit me more than the fact that it looks good on a college application."
Despite the fact that Jalen has to put in a lot of hard work into the Boy Scouts program, his mom is proud of him for staying dedicated to the Boy Scouts program over the years.
"The Boy Scout Law states: A Scout is trustworthy, loyal, helpful, friendly, courteous, kind, obedient, cheerful, thrifty, brave, clean and reverent, and I truly feel Jalen embodies all of these traits in his everyday life," Jalen's mom Andrea Fields said. "He is always helpful, friendly, courteous and kind to all he meets and willing to volunteer to help others.  He is a very loyal friend as he has had many of the same friends since he was very young."
Although Jalen's sports camp was a big project to take on, Jalen's brother Julian Fields said that the project will leave an impactful legacy.
"I will admit Jalen's Eagle Project is one of the boldest moves I have seen as far as Eagle projects in our troop, but I would say that it is not a bad thing," Julian Fields said. "The point of the Eagle Project is to leave some impact on the society. So that people can say, 'Oh yeah I remember that some boy did his Eagle Project there,' and as far as I can tell Jalen's Eagle Project will be well remembered. In the end, I think a sports camp was a fantastic idea."