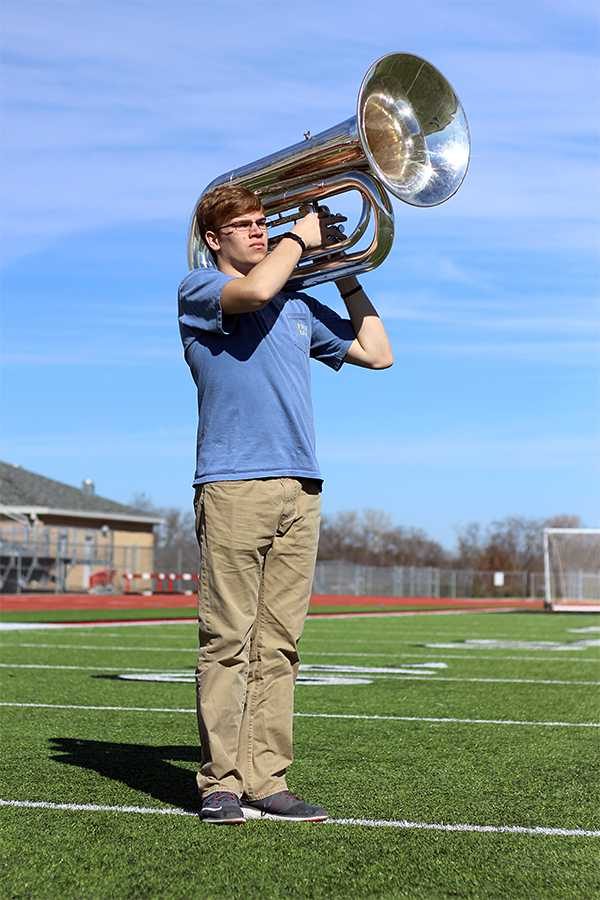 Mandy Halbert
Some students have taken their music careers to the national level.
Drum Corps International is a marching band league that has corps that compete amongst one another. Junior Jacob Oates auditioned for the Boston Crusaders and made alternate tuba. He will spend his summer with the corps participating in live events. Senior James Reyna, while not earning a spot, also tried out in Denton originally and made call backs in Orlando, Fla.
"My brother did it and he said it was like the military and I thought that was awesome," Reyna said. "I wanted to do it and work hard. I didn't want to go there and want to slack off. I didn't want to have that attitude, especially going into college. I wanted a good experience so I could be disciplined with work with time management with fitness."
Junior Nick Pitkin was a part of the Blue Knights drum corps during the summer of 2015 as a trumpet player. His corps was based out of Denver, Colo.
"Playing in the Denver Broncos stadium was really cool because almost the entire front side of the stadium was filled up with fans," Pitkin said. "That was our home show because it was in Denver so they were all really cheering for us."
The competition for a spot on the corps was highly competitive. Applicants are given two scores, one that evaluates their marching and another that evaluates their musicianship. 
"There were 100 people there all trying out for 76 spots," Oates said. "For our individual audition, they brought seven people into a room and we auditioned. We played our pieces in front of everyone and then they brought a group of 10 people out to do our visual audition."
There are 22 world class corps. Each corps sets their own minimum age, but the maximum age for all corps is 21.
"The hardest part was probably me being almost the youngest member," Pitkin said. "The only other person younger than me was a couple months younger. It was just kind of weird being around college people the entire time. I think the average age for the Blue Knights was 19.6."
The corps present a different atmosphere to marching than high school students are accustomed to. Playing in front of large crowds alongside high school graduates adds a dynamic that students can't experience in high school band.
"Definitely 90 percent of them were college kids, music majors," Reyna said. "It was their business, so it was tough coming in as a high schooler who was not a music major and didn't have a very prestigious music background, but I was willing to try it anyway."
Being a part of the Drum Corps International league presents a great opportunity to gain marching band experience and become a better musician.
"We have a pre-show this year that is a soft, gentle song, but then the opener is pretty intense," Oates said. "[The hardest part of the process was] learning the audition pieces and what the corps wanted to hear."
Even though Reyna didn't make the Boston Crusaders, he said he was grateful for the experience and the lessons he learned through the audition process.
"When I went it was with a small group, it was tough because you had to stand for four hours at a time and the only time you could really relax is when getting water," Reyna said. "The people who run it are really smart, they are all music educators [and have been] for years now. I learned a lot actually that I can apply to regular band."