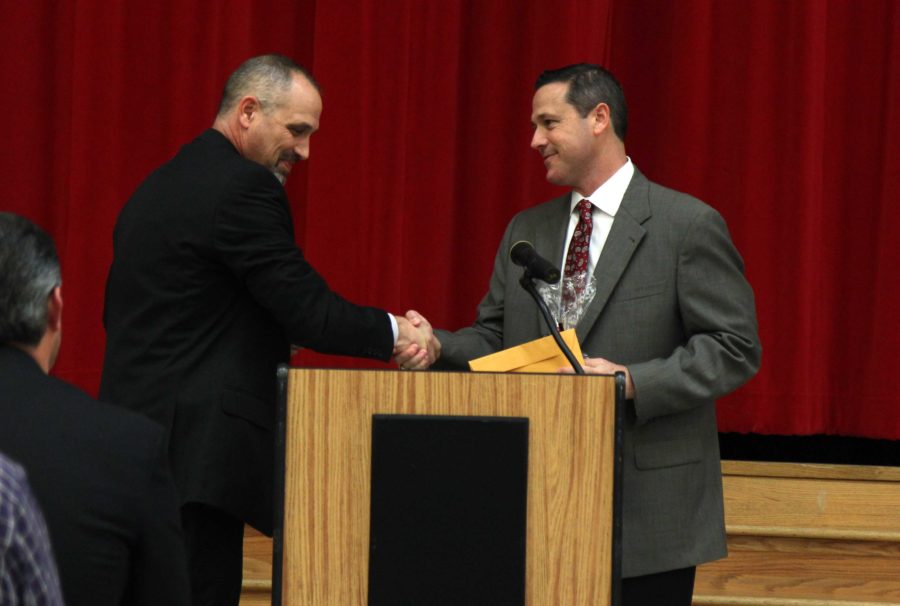 Stu Mair
Todd Ford of Cedar Ridge HS has been announced as the new hire for the head football coaching position and was confirmed last night by the school board. Ford was hired for the post that was left vacant after previous head coach Ryan Cox was reassigned within the district at the end of the 2015 season.
"I'm very excited to be working here and can't wait to start working with the kids," Ford said. "First and foremost I want to get my family here as fast as possible so I can assemble our staff and meet the kids. Lovejoy really stood out to me in that there is such exceptional academics here as well as the community is so driven to support the students, and so I'm really excited to start representing this great district."
Ford was offensive coordinator under Todd Dodge at Southlake Carroll where they won three state titles and went 48-0 in a three-year span. He then moved with Dodge to Division I college football at the University of North Texas for two years, also coaching under Dodge. Ford was later hired to head the athletic and football program for Cedar Ridge in Round Rock for the school's first year in 2010. Cedar Ridge had a 26-19 record with Ford including three playoff runs and a 10-2 record in 2015.
"We wanted to find somebody who has a proven track record and deep knowledge of the game," superintendent Ted Moore said. "[We wanted] a coach that will be an exceptional fit for Lovejoy, so it was important to have a high level of integrity, be a good role model, and be somebody who would invest in players to help them be not only the best athletes they can be, but the best men they could be. Experience working with parent groups to help the community grow to the greatest it can be was also crucial."
Administration received 65 applications for the position and conducted interviews with 14 candidates. During the process, athletic director Jim Bob Puckett said Ford exemplified the qualities sought after for the coaching spot.   
"His demeanor, professionalism, and answers were right on point for what we are needing now in our football program and he showed himself to be the top pick," Puckett said. "He's going to bring a new sense of direction and new set of eyes to the talented kids we already have here at Lovejoy, and I think he is the guy that can take this team to the next level without straying from our focus of winning championships, playing to the best of your ability, and learning lessons through athletics."
As the interview process began, administration looked to have an in-depth assessment of the candidates, and so looked at both coaching ability as well as leadership capabilities.
"I headed up a committee that allowed coaches to put their game film up and we spent a hour and half breaking down their offense, defense, special teams, practice schedules, middle school/high school plan, player development; I mean we went through the whole gambit," Puckett said. "Another committee lead by [Principal Chris] Mayfield focused on leadership qualities, program development, those kind of things, and what was so ironic was that he was the top candidate on both committees. We had some real excellent candidates and it was a tough choice, but when he came in, he was my number one choice from day one."
While Puckett interviewed Ford, he said found many similarities in the goals and philosophies between Ford and the football team, as well as Puckett himself.
"When I was sitting there listening to him, he was quoting the things I believed in when I started the program back in 2006," Puckett said. "I thought I was listening to myself, so that's always encouraging when you have similar ways in how you talk with athletes and motivate them, so it was very reassuring that our players will be put in great hands."
With the addition of a brand-new head coach, Moore said it is common for football programs to be restructured for how the coach sees fit which brings the status of the current coaches into question.
"Coaches are going to come in and assess the staff to determine who is an acceptable fit for the program going forward," Moore said. "So typically the way that works out is that the staff that wants to stay will, and the staff that doesn't will decide to look at other opportunities. We expect him to put together a staff that will be consistent with what he believes and put us in a good position to build a strong program."
The graduate profile states that a "Lovejoy graduate has had a variety of experiences beyond the classroom. Opportunities to excel in art and music, on the stage and on the athletic fields have led the graduate to view aesthetic and physical development as essential to an education." With that in mind, administration searched for a coach that would respect academic and artistic ambitions of their athletes.
"One of Coach Ford's goals is to win the Lone Star Cup every single year, which is the award for the best overall athletic and academic UIL program in the state of Texas, and in order to do that you have to share athletes with other activities," Puckett said. "You have to come up with a way to not make a student have to decide between two activities so you really have to have sponsors that are willing to let the student experience multiple activities so their talents can be spread across the board, and Coach Ford is in agreement of this."
Ford will be meeting the players and coaches of the football team this morning for introductions and the current football players are very eager to meet the head coach and leave a positive first impression.
"I'm excited about it. I know there is going to be change, but I'm ready to start preparing for next season," sophomore Bumper Pool said. "It's nice because it will make everyone work a bit harder. All positions are open for the taking so its gonna be a lot of competition. It's what the team needs, especially since losing a lot of seniors last year."