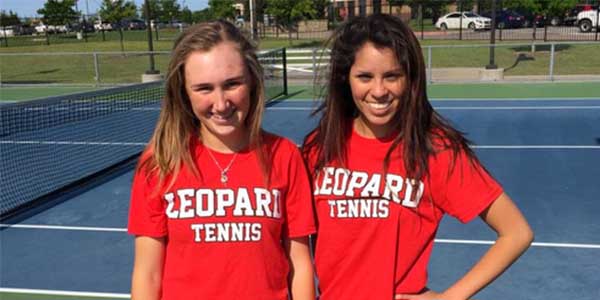 Adam Cherry
The Leopard girls doubles team of senior Anna Dickens and freshman Samantha Hayward take the final steps towards a state championship Tuesday in the 5A State Tournament in College Station.
"Every year I've had aspirations of bringing home a state championship," head tennis coach Adam Cherry said. "Only eight teams or players make it to the state tournament so we are only three matches away from bringing home the gold."
Although being separated by three years, the duo has formed a bond and friendship that transcends the tennis courts.
"I absolutely love playing with Samantha," Dickens said. "We just understand each other on and off the court. It's not difficult for us to figure out what the other is thinking while we're playing. Since we've trained at the same academy [Brookhaven] we know what to assist each other on and we know how to work as a team."
The last few years have been a drought for the tennis team as stiff competition has held them back from competing at state.
"We did not qualify any kids to the state tournament the past two years when we were 4A," Cherry said. "That was mostly due to having Highland Park in our region. It's a huge accomplishment just to make it to state but I have high hopes for our girls to come home with a few medals."
Dickens and Hayward may have to face a familiar foe if they are to place at state.
"Texas High will give us the most competition that I know of," Hayward said. "We just lost to them in regionals so it will be a mentally tough obstacle to overcome. I am looking forward however to seeing all the college scouts there."
Coach Cherry looks forward to a new location, as well as the atmosphere.
"I'm looking forward to the tournament being held in College Station," Cherry said. "I've never been to the A&M courts so I'm excited about that. I'm ready to watch our players compete against the best girls doubles teams in 5A. We play Tomball Memorial in the first round and will take on the winner of Grapevine/San Antonio Alamo Heights in the state semifinals. As with any state tournament, the atmosphere is electric and as a tennis advocate I am excited to watch the best players in Texas compete for a coveted state championship."