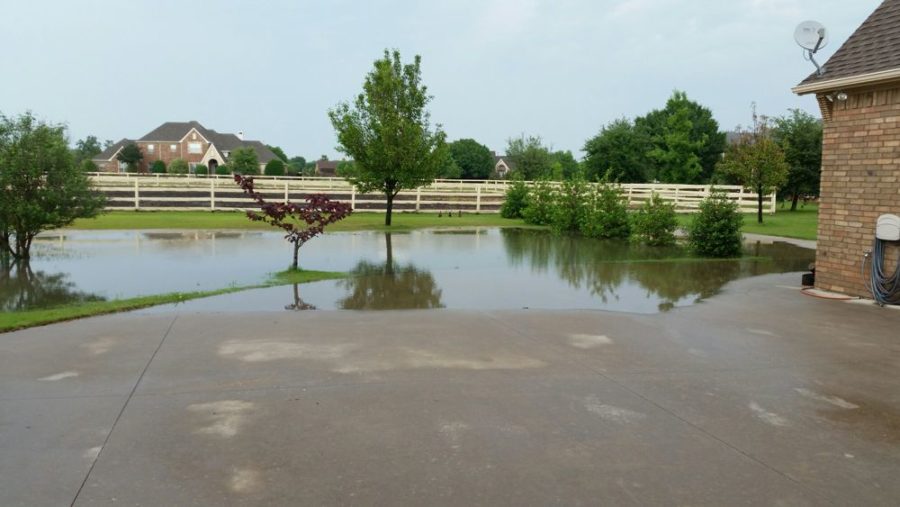 Courtesy of Joseph Korona
North Texas has experienced thunderstorms and severe weather over the past few days that has affected multiple events and communities throughout the area. Flight cancellations, concert delays, tornados and floods rained on the parade of many residents all weekend and are expected to continue well into next week.
"Flooding of some extent is reported in every county around Dallas/Fort Worth," WFAA Chief Meteorologist Pete Delkus said Sunday. "That's because 48-hour rainfall totals in many areas exceeds one inch."
A lot of  North Texas residents haven't been able to escape the bad weather. After a weekend of thunderstorms, Denton experienced a rain-wrapped tornado on the ground near Golden Triangle Mall and headed toward downtown Denton at 2:18 p.m..
Over the weekend more than 100 flights between Dallas Love Field and Dallas-Fort Worth Airport were delayed by approximately one hour. The DART railroad in Dallas has had severe damage to lines and will be delayed for up to six hours today. Buses will continue to transport customers into downtown until the rails and back in working condition. Coming back from NIETOC nationals in Nebraska, Nate Wutzke, Avery Flessner, Sonali Mehta, and debate teacher Tammi Parker were caught in the midst of the bad weather.
"Our flight was around 5 p.m.," Parker said. "We had to get to the airport early, and got a push notification from the airline that our flight was delayed.  We were in Lincoln, Nebraska; not much to do there, it's tiny. We just got a coke and just hung out for a bit. We had a connecting flight in Colorado so if we didn't make the connecting flight, we wouldn't make it home in time. We were delayed over an hour, but by the time we finally landed we had 20 minutes to run to our flight in Denver."
Transportation hasn't been the only issue with these dangerous May showers. Many students have had to delay plans due to the weather. On Saturday many fans were upset at the Lana Del Rey concert at Gexa Energy Pavilion when the pop artist was barred from performing due to the weather.
"At first people thought the announcement was a joke and then there was a lot of booing and people were refusing to leave," junior Shannon Ferguson said. "Most people weren't in the proper state to be leaving and it took a really long time to get everyone out. If there was a tornado, people would definitely not be safe. It took us two hours just to get to the car and on to the highway."
Although opening act Courtney Love, was able to perform, Lana Del Rey canceled her performance. She later apologized to fans on Instagram. Her show has not set a date to reschedule.
The wet weather is not over yet, as each day the rest of the week has a chance of rain. With prom Saturday, some students are having to alter their prom plans due to the weather, while others have decided to embrace it.
"If it rains on Saturday, I suppose we could take pictures indoors," junior Morgan Garrett said. "But it'd make an interesting night if it did happen to rain. I think prom is about just living in the moment and enjoying [it]. If it rains, it rains. It'll make for some interesting memories."
Community members are all affected by the storm in different ways. Although the rain dampened the plans of many citizens this weekend, communities are planning around the bad weather.