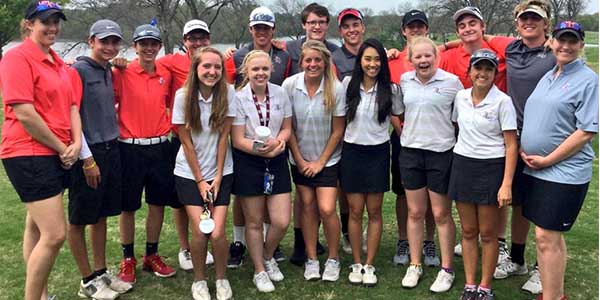 Courtesy of @LeopardGolf
It's one of the busiest weeks on the school athletics calendar as the track and field team, tennis and golf teams take part in District 10-5A competitions that start the road to state.
For the tennis team, the district tournament resulted in five Leopards (Anna Dickens/Sammie Hayward in girls doubles, Grady Wells/Cole Bennett in boys doubles and Clarisa Salinas in girls singles) advancing to the regional tournament April 20-21 in Rockwall.
On the golf course, the Leopard girls finished in 4th with senior Abby Martin missing out on a bid to Regionals by one stroke. The boys finished in 7th (red) and 9th (black).
With tennis and golf done for the week, track and field athletes compete Wednesday and Thursday in the district 10-5A track meet at Wylie High School. The team has competed in multiple meets so far but the team's main focus all season has been the district competition.
"I am very excited about seeing how everyone will perform," head girls track coach Logan Kelly said. "We have trained hard all season and some the entire year, so I think we will have a good showing at the district meet. Ultimately I want all the athletes to give it their best and come out healthy as well. We have had some injuries lately so I am excited to see some of our athletes step up and fill in for some of our needs on the team."