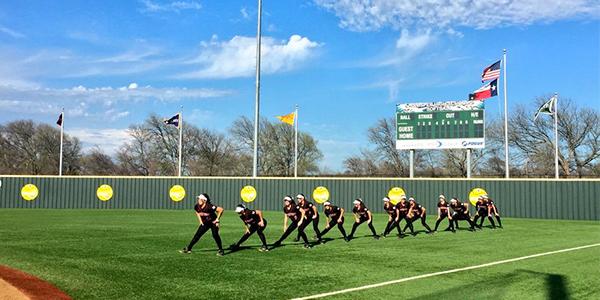 @lovejoysoftball
Off to a 6-0 start in District 10-5A, the softball team is in first place heading into Tuesday's game at home against McKinney North. Averaging more than 10 runs a game in district play, the team is being powered by its bats.
"At this point, this team's biggest strength is our offensive consistency," senior Samantha O'Brien said. "We've scored at least twelve runs in most of our district games. That will go a long way for us in our district and playoff run. Our only weakness right now is injuries."
This team differs in several ways from years past, primarily with a new head coach leading the way.
"All the girls seem to get along extremely well," senior Danielle Brochu said. "Coach (Jeff) Roberts has brought nothing but amazing things to the program and we are already seeing benefits from the offseason program he worked us through. I'd give a lot of credit to him for bringing our team together and bringing out the fight in all of us. It's an awesome thing when the entire team is under the same goal, and the same mindset."
Roberts has been fortunate to see a number of players produce consistently at the start of district play.
"Danielle Brochu has been doing a great job, allowing only one earned run per game," head coach Jeff Roberts said. "Samantha O'Brien is her battery mate, and we have done a good job working to call successful pitches that give us a chance to win. Throughout our lineup we have great hitters, but Jaclyn Willis has over fifteen RBI's in the last three games. When we have RISP, Jaclyn is a confident hitter. Sophomores Emily Weichel, JoJo McRae, and Kallie Killingsworth are our first three hitters and have done a great job setting the table for us."
The team is looking forward to its game Wednesday against McKinney High, a team with multiple threats.
"They're lead by their shortstop who has signed with Central Arkansas," Roberts said. "Fontillas is good at the plate and in the field. They have two pitchers on varsity, both of whom are right handed. One is a sophomore, the other is a freshman. Their coach is a long time friend, and it should be a fun, competitive game."