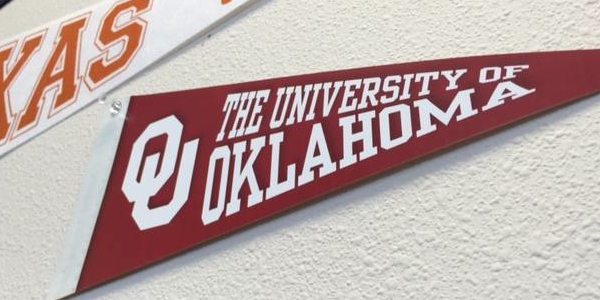 Jillian Sanders
The racist chant video featuring members of the University of Oklahoma's fraternity Sigma Alpha Epsilon has ignited a national discussion that is putting OU under scrutiny by civil rights activists nationwide.
"I have emphasized that there is zero tolerance for this kind of threatening racist behavior at the University of Oklahoma," university President David Boren said in a statement to the press on Tuesday. "I hope that the entire nation will join us in having zero tolerance of such racism when it raises its ugly head in other situations across our country."
SAE headquarters is continually updating its website and plans to take permanent action to condemn the actions from the OU chapter.
"Our investigation has found very likely that the men learned the song from fellow chapter members, which reiterates why Sigma Alpha Epsilon did not hesitate to close the chapter completely because of the culture that may have been fostered in the group," states Sigma Alpha Epsilon's response to the events on their national website.
Former Leopard Jeremy Burno (class of 2013) currently attends OU and believes the chant is nothing new.
"I think that people need to realize that the fraternity was started 5 years before the Civil War in Alabama, so obviously they had a pro slavery view back then," Burno said. "For people to assume that the kids in the video are racist from a chant that has been around for definitely over 100 years and is known across the nation at different SAE chapters, is a little over the top."
Civil right activists all over the country have taken a stand against the racist video and some have even taken their protests directly to the OU campus.
"It's just a terrible situation," Burno said. "There has been a few rallies/protests at night but during the day everything is just quiet and not much is said about the situation.
Lovejoy alumna Maggie Compton (class of 2014) now a student at OU, protested at the SAE house, and for her the racist events are a call to action.
"It's not necessarily how I feel in this that matters," Compton said. "The community here is not defined by the actions in that video, honestly it was a wake up call for this community and the whole nation that this problem of discrimination and racism still exists when it shouldn't. It was a community effort to display that we stand together for the need of change. Not just on our campus but throughout our country."
While the video has brought some negative attention to OU, it has not deterred some students on campus from their aspiration to attend the university in the fall.
"It doesn't change my thoughts on the school at all, it was a handful of immature freshman that ruined the reputation of what OU really stands for," senior Kody Fagin said. "It's quite sad because none of them are really even racist, it was a bad joke and many bad decisions gone wrong."
The video will make a difference to some prospective students, such as junior Aaron Fuller, who is quickly becoming one of the top football recruits in the region.
"What happened at OU this week can affect my college decision a little bit," Fuller said. "Because I am African American, and just knowing that some of the students there feel that way kinda effects whether or not I want to go there and be in the atmosphere around the school. The school atmosphere becomes a factor because I would have to go to school with the rest of the student body."