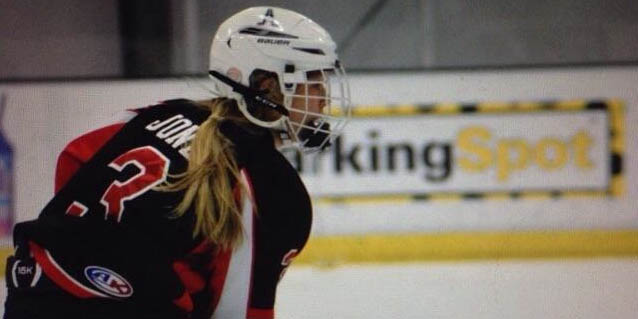 Courtesy of Sydney Jones
The past twelve months on campus have challenged typical conceptions of genders in athletics. From male cheerleaders to female wrestlers, traditional athletic roles have been turned completely upside down. Sydney Jones is the latest to do this as a freshman who sees regular time on the ice as part of the 18-2 Leopard hockey team.
"Hockey being a male dominated sport has never scared me off," freshman Sydney Jones said. "I've been playing for numerous years. I really feel like with my experience I've developed skills to hang with the guys."
The guys see Jones' skill and know she's earned a spot on the roster.
"I've known Sydney for a long time, but I never knew she was capable of what she's pulled off," teammate Logan Casteele said. "This is the first year I've played alongside a girl. It took some getting used to just because it's something you don't see everyday, but I appreciate what she's done."
Her long hair makes her standout on the Leopards, but she doesn't think she would like it any other way.
"If there was a hockey team dedicated to only girls, I'm not sure I would want to participate honestly," Jones said. "I enjoy the competition. I live for people questioning my spot on the team. I understand that people will never stop questioning a girl on a hockey team, and I'm okay with that. I'll just continue to let how I play do the talking."
Averaging 0.79 goals per game, three goals, eight assists, and eleven points on the season, Jones has been a valuable asset on the team.
"She's been critical to our success," teammate Levi Casteele said. "She shows signs of leadership, she plays hard, and never refuses opportunities presented to her. We need that type of toughness and mentality throughout the whole team. I hope her passion will be contagious and rub off."
Jones has earned her spot on the Leopard hockey team, but she hopes to be an inspirational figure to other girls in the school.
"I want to show people to neglect stereotypes," Jones said. "Not just in sports, but in your life. Depending on who you are, people will have images of you already. Don't let that influence you. Pursue what you love until people are forced to accept what you do. Eventually they may even be on your side."