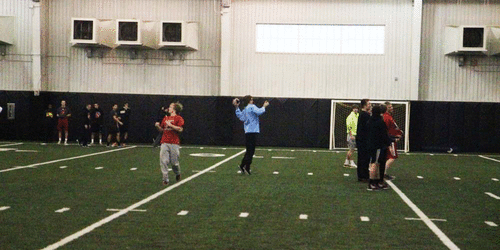 Stu Mair
With every great quarterback is a talented receiving core. Just ask Bowman Sells, the Leopards starting quarterback. Sells has pumped out a productive season statistically with 156 completions, a 62.15 percent completion percentage, 2,783 yards passing (best in 5A for Dallas) and 33 touchdowns. A lot of Bowman's success can be attributed to his partner in crime, Aaron Fuller, who ranks number one in receiving yards (1,319), yards per catch (20.9) and touchdowns (20).
"I'm sure there has been other QB/WR combos that have been very good," Leopards offensive coordinator Ryan Priem said. "I have never coached two young men that have put up these types of numbers. Not through 10 games at least."
A big reason the Leopards are District 10-5A champions after a 0-3 start is this dynamic duo, a performance years in the making.
"Me and Aaron have been playing together since seventh grade, but this is the only the second year he's been my receiver," Sells said. "We've always had pretty good chemistry, but this year everything has just seemed to click. I know I can rely on him to go get a ball whenever we need a big play."
For Priem, the duo provides a luxury few coaches can call on.
"It's like a perfect storm," Priem said. "You have a QB that is very accurate, smart, and has a strong arm, and you have a WR that is fast, has great hands, understands defenses, and runs great routes. When you put all of those together it's hard for anyone to stop."

While Sells is one of the top quarterbacks in the class of 2016, he acknowledges a great quarterback-receiver connection is universally critical to achieve success on the field.
"That connection is very, very important," Sells said. You always have to be on the same page as your receivers. That way, you know their tendencies and you know where they'll be at every moment. This leads to a lot of completed passes."
Fuller agrees that his chemistry with Sells is critical to the Leopard football squad.
"Our teamwork is pretty good," Fuller said. "We've had enough time playing together now that we click extremely well. It's really important for me and Bowman to thrive and lead the team. I think it's played a big role in our success so far this season."
Head coach Ryan Cox wouldn't disagree; he's seen how much the two work.

"They developed their chemistry from repetition," Cox said. "They spent a lot of time this summer throwing and catching together. When you throw and catch that much together during the summer and during fall camp and other times, you develop a chemistry that can't be matched. I've seen a lot of good receivers and a lot of good quarterbacks but not many pairs as good as they are."