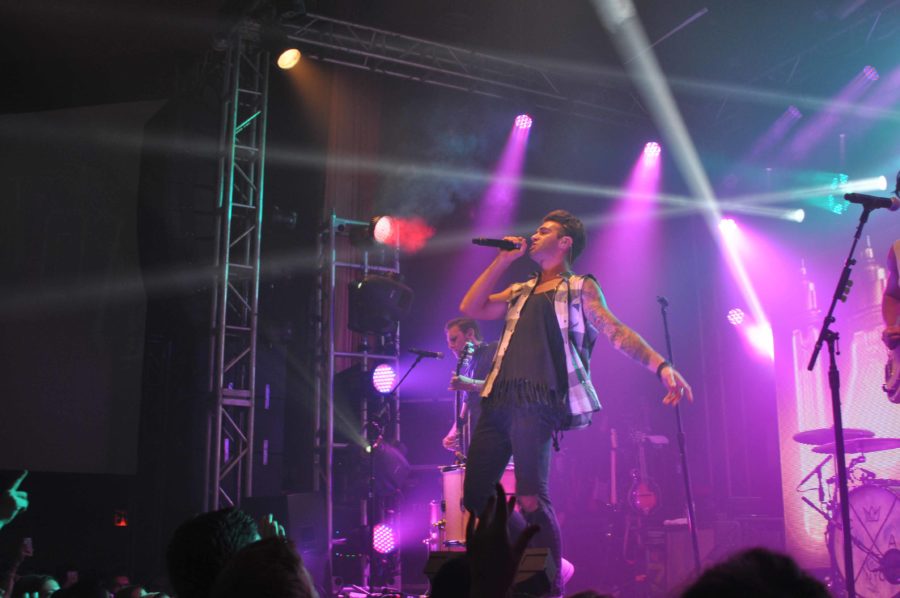 Morgan Hykin
A vintage theatre, a fun-loving Friday night crowd, and a trio of feel-good artists is the recipe for a fantastic night. That was the case October 17 at Granada Theater in Dallas, as part of the Honda Civic Tour concert series featuring Echosmith, The Mowgli's and American Authors; an entertaining performance overall, however it fell a bit short of expectations.
New York's American Authors headlined the night. Their performance was entertaining but lacked the energy and pizzazz that would have made the concert extra special. They played upbeat songs like "Believer" and "Trouble" off their 2014 album Oh, What a Life. A cover performance of "Yellow" by Coldplay was a diamond in the set.
The band was friendly with the audience and seemed genuinely happy to be performing. They used social media to have their audiences Tweets and Instagram posts to appear on the onstage screen, which made all their fans giddy when they saw their own faces next to some of their favorite band members. The set was entertaining and fun, but lacked sparkle that would have made the night one to remember.
Setting the stage for American Authors were The Mowgli's, an easy going Southern California band. Their constant relaxed vibe, easy going chit chat with the audience and light hearted music made them absolutely lovable. They kicked off the set with "Emily," which wasn't the best choice for a jaw-dropping opener, but it got the job done. Throughout the set they gained momentum and energy. They played more well known tracks like "San Francisco" and "Say It, Just Say It", but they also touched on newer music which wasn't as big of a hit. The Mowgli's did a fantastic job of encouraging audience members to participate in singing and dancing along.
Stardom is on the horizon for opening act, Los Angeles based Echosmith. This fun-loving band was a fantastic way to start up the evening. They played popular songs like "Tell Her You Love Her" and "Cool Kids". Not only did Echosmith have impressive showmanship, but their technical musicality was nothing short of stunning.
The concert was an enjoyable night out, but lacked that something to make the concert memorable. Though the night didn't meet high expectations, it was fun, entertaining and provided a great Friday night out on the town.
Our rating: B