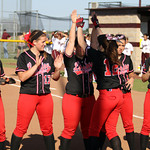 Courtesy: Mike Conner Photography
The highest number of open coaching positions offered since the school opened has been dramatically reduced as the school has been on a hiring frenzy with many new coaches having been named. In addition to the naming of Jason Nicholson as head volleyball coach and Ryan Cox as head football coach, the following is a list of newly hired coaches and their positions.
1. Misty Benson (head girls soccer coach)
2. Jeff Roberts (head softball coach)
3. Logan Kelly (head girls track coach)
4. Brie Groth (assistant volleyball coach)
The top three candidates for the boys soccer head coach position are being interviewed this week and next.
Check back with The Red Ledger for continuing coverage of the school's coaching changes.