Outsourced: part two
One student's journey across the world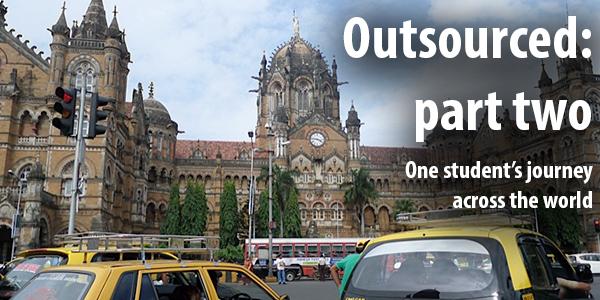 Everyone keeps asking if my brother is Justin Bieber.
No matter what I try to explain to them, they continue to take his picture and approach him as though he is some kind of a celebrity. Which he isn't, for the record. They take my picture, too, though they don't mistake me for any Canadian pop stars, thankfully.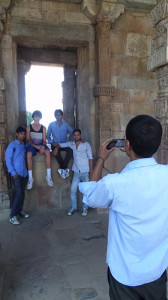 Despite the fact that it is a major world city, not many Americans visit Mumbai (formerly Bombay), India. Those that do are typically businessmen and older, typically balding, men. Young adults such as myself and my younger brother Cole are an anomaly, so naturally, we get stared at quite a bit, and, sometimes, people take our pictures.
Of course, the fact that he walks out of a world-famous, five-star hotel, the Taj Mahal Palace, where Obama, John Lennon, Oprah, Bill Clinton, and the Queen of England have stayed only adds to people's fascination of him. They are interested in me, but not like Cole. Cole is adored by the Indian public.
India is a land of extremes, and, unfortunately, people tend to picture India as poor and dirty. While there is still immense poverty in the country, there is also immense and prosperity. Rather than begin by describing the poverty and struggles of India, I hope to debunk some myths and stereotypes by describing the wealthy and upper-class parts of India so that I can fairly and accurately represent this fascinating and incredibly diverse nation.
When we first arrive at the airport in India, the driver meets us at the terminal, and people immediately start taking our bags from us and carrying them for us, telling us that everything was "No problem!" and to not lift a single finger. Normally, I would have offered to carry them myself, but it was midnight, and I was too exhausted to stop them.
Then we arrive at the hotel, where, despite the fact that it is now nearly two in the morning, we are greeted by multiple members of the staff, who place wreaths over our heads, welcome us, and lead us to our room. It's so late that I didn't notice who took our bags and carried them to our rooms, but they were there. For the staff, it apparently wasn't too late for luxury – I never touched a single elevator button, opened a single door, nothing. A late night snack was offered to me.
The Taj Mahal Palace is the most beautiful, elegant place that I ever been in my entire life. There were multiple yachts at the dock available for charter, some of the finest restaurants in the world, and downstairs there is a Louis Vuitton and a Dior store. There was a special book of some of the important guests who have stayed at the hotel, and names such as Jacqueline Kennedy Onassis, Bill Clinton, Mick Jagger, Brad Pitt, Angelina Jolie, Hillary Clinton, Oprah Winfrey, the Beatles, and even Barack Obama and the Queen of England are listed. I wondered how many important figures were in the building with me at that time. Probably quite a few.
The days are long and packed with places to do, people to meet, and things to do, so each night in Mumbai typically culminated in an in-room dinner from the kitchen of one of the restaurants in the hotel, partly due to the fact that I was just too tired from a long day of walking and exploring India to do anything except for curl up in front of a TV with a meal chicken tandoori and a mango lassi, and partly because of the fact that women are advised not to journey outside of their homes and hotels at night, even when accompanied. Pappu, our floor's attendant, would deliver the food on silver trays, carrying in with him a table and chairs, set with the utmost precision and care. Pappu would then exit the room when we began our meal and return in what seemed like seconds after we called to have our table and plates taken away. It turned out, Pappu would wait right outside our room the entire time during our dinner to ensure that our every need was attended to.
In Delhi, I stayed at the ITC Maurya, located in the heart of the Diplomatic Enclave. Upon checking in, they introduce us to our butlers. At any given time, there are many important ambassadors and dignitaries from around the world staying at the ITC Maurya. Just back in 2010, Obama stayed at the ITC – and according to some of the staff there, he rented out the entire hotel. When we asked the hotel to connect us with a tour guide, we had the personal tour guide that takes some incredibly important figures around the city of Delhi.
It really did feel as though I was living the life of a royal, since I had my own personal iPad to control the television, lighting, and order room service, and someone to push the buttons for me in the elevator. Everyone treated us as though we were special, too. When my parents went to the restaurant at the hotel, one of the top ten restaurants in the world according to some reviews, the head chef personally invited them out of all of the guests to introduce himself and let them walk through the kitchen with him. According to my mom, they got some majorly jealous stares from the other dinner guests. Some of the other special guests to the kitchen include Bill Clinton, Vladmir Putin, Hillary Clinton, and Arnold Schwarzenegger. The chef proudly gave my mom some of its spices to take home with her.
This is the India that not everyone sees, that is just as prevalent, if perhaps more prevalent, than the slums, the poverty, and the desperation. Unfortunately, our view of other nations can be altered by popular culture and negative news reports, and sometimes we fail to hear the good about a nation – the beautiful architecture, the kind and welcoming people, and the progress that they are making towards a bright future.
Meanwhile, Cole remains a celebrity, and everyone kept thinking that he is Justin Bieber everywhere we went. Little girls were running up to take their picture with him, gawk at him as though he was Madonna. Actually, everybody did, from toddlers to grandparents. My brother was an Indian celebrity, and his flawless rendition of "Punjabi MC" raised him to near superstar level. I made a mental note to see if he made it to tomorrow's tabloids in India.
Click here to read Outsourced: part one

Click here to read Outsourced: part three
Click here to read Outsourced: part four